How can a fresher gain some real life experience in data science and machine learning?
Machine learning and data science one of the hottest domains of the tech world right now. One of the famous analogies used to describe Data science and Machine learning is – data science and Machine learning are like driving, in order to gain expertise, you need to practically work on projects. Many students, especially engineering graduates face difficulties in landing a data science /Machine learning job. In this blog I will be briefing you about how to land a data science/ Machine learning job as a fresher.
Programming skills
An aptitude for coding is a crucial requirement for data scientists. R & Python are two of the primary languages used in machine data science. Python is used for deep learning and machine learning while R is used for mathematical and statistical analysis tasks. When you are looking for a job In data science and machine learning, make sure you are fluent in these open source languages.
Check out the Advanced AI Programme @ Fingertips
Basics of machine learning
Fundamental concepts of machine learning methodologies must be learnt. You should also gain some knowledge about Concepts such as- random forest, decision tree, linear regression, k-nearest neighbor, logistic regression. In particular, learn about various parameters of these algorithms, how to exploit them to suit your requirements, and how to select an algorithm based on your data set.
Training
Training form a certified institute would definitely give you a substantial edge over other aspirants. There are various institutes that provide training, where they also allow you to gain some expertise on various projects. These training programs hold a significant value in your resume. The reason is, conventional engineering courses are not precisely designed to meet the requirements of a data science and machine learning professional.
Check out the Data Science Masters Programme @ Fingertips
An online portfolio
It is crucial for you to showcase your skills. There are various ways for you to up your digital presence. For instance – if you have worked on some projects, Github is an amazing platform to upload your work, in case you have written some research papers or technical articles, you can use Researchgate. You could also try blogging. And finally you can make your presence known on LinkedIn.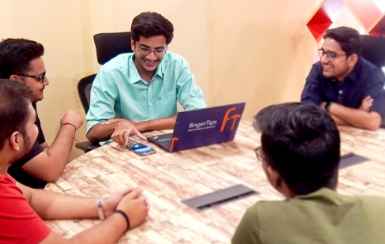 Ashpreet Kaur - Jul 2, 2021
Exercitation photo booth stumptown tote bag Banksy, elit small batch freegan sed. Craft beer elit seitan exercitation, photo booth et 8-bit kale chips proident chillwave deep v laborum. Aliquip veniam delectus, Marfa eiusmod Pinterest in do umami readymade swag.