How to make your career as Data Scientist
Career transition is always a serious concern for young professionals. A wrong decision can change the entire future of one who is aspiring and working towards it. Any career transition is not as easy as it seems. One has to put massive energy into research, analysis, discussion, consultation on each career option that he/ she is looking for. When you are surrounded by thousands of career options, it becomes even more difficult to select one option out of them.
The bigger challenge is to find the course that can ensure your quality learning, practice and sure placements at the end. And, when you are already working in some sector and planning for a career transition in a new field, it becomes even more challenging, to begin with until you get the right hands to guide and support.
The blog is completely dedicated to professionals who are willing to become Data Scientists. It will cover important steps that facilitate and guide you to make your career in Data Science.
So, Let's understand, What is Data Science?
Data Science is the sector of application of advanced analytics techniques for generating needful insights from the data collected from various business sources. This valuable insight helps in business decision making, strategic planning and business forecasting. It also facilitates increasing operational efficiency, identifying new business opportunities and improving the marketing strategy of the company. In a nutshell, it gives an edge to organisations to stand firm in a competitive world and make better business planning. Data science includes various fields like statistics, artificial intelligence, machine learning, and data analytics.
Why is Data Science so important?
• Today, every company generates a huge amount of data from various sources like surveys, sales, promotion. On average, the world generate a whopping 2.5 quintillion bytes of data every day and companies are only able to use only 1/3 of data for generating needful information
• Data Science skills are the most demanding skills today and help youngsters to unleash the potential of shining career opportunity in this
• It is one of the highest paid jobs in the world. The average salary of a Data Scientist is Rs. 7 lakh per annum which is more than a graduated engineer
• Data Science not only provides you sure career opportunities but also gives global exposure, learning as well chance to work in multinational companies
How one can enter into Data Science
Although the Data Science field seems quite technical due to its nature, today even non-technical professionals can pursue a career in this sector. After proper training of certain tools, one can excel in Data Science like experts. Here, we have narrated some of the ways that can help you to get the dreaming entry in Data Science.
Intensive Research of Data Science Career
Data Science is the best-suited career for the aspirants of engineering, computer science, information technology, and statistics. Technical knowledge of the computer and allied sector can help one in making a career in Data Science. But Data Science not only tests your technical skills but also your analytical skills as well. Therefore, if someone wants to pursue a career in data science he needs to have in-depth research of data science. Before selecting the company for a data science career one needs to find out the scope, future possibilities, current needs and growth.
The Data science sector and the job associated with it, have massive disparity. The role of a Data Scientist is different in every place. AI and ML experts have different roles in Data Science whereas Business Intelligence people have unique roles and statisticians have different roles. Their learning and exposure are also very different. AI and ML professionals will have a thorough knowledge of technologies like Python, R, and Data Modelling etc. A statistician may excel in data analytics with knowledge of hypothesis testing, statistical testing etc.
This kind of diversity in roles and responsibilities often creates confusion in one's mind. Therefore, the research of each aspect of data science can help one in attaining an understanding of data science. Detailed research will be benefiting you all through your journey by making you empowered to come out of your comfort zones. Thus, exploring the Data Science sector and understanding indeed about its parts will boost your confidence and further help your smooth transition in Data Science.
Learn from the Best Brains
To learn data science tools and techniques, one requires the best learning place and expert teaching. The best learning resources facilitate training your mind for the Data Science industry and provide required exposure as well. Learning exposure not only helps you to understand the concepts of the allied sector of Data Science but also provides you the space to learn the required things of data science. It also develops a habit to make yourself ready and well equipped with the latest happening in the world of data science. There are various learning platforms available both offline and online. Some of them also offer free learning of tools and techniques.
In these platforms, you will be able to explore data science techniques like Artificial Intelligence, Machine Learning, Statistics, Data Validation, Data Visualisation, Data Analysis and tools like R, Python, BI, Tableau etc. They also provide real and live projects where you can practice these tools and techniques. After the COVID situation, most of these platforms have updated their curriculum, teaching method, and content. Now one can get both live instructors led or self-paced videos for data science learning. You will practice on real-world case studies and data sets of MNCs. Meanwhile, the industry experts will help you to attain the desired skills within the stipulated time.
Counselling and Mentorship
Mentorship is equally important as training in Data Science. Once you get enough understanding of all the career opportunities and best learning platforms in the field of Data Science, even there is a possibility of confusion in your mind. The main reason behind this confusion is the lack of proper guidance and fear to start. Another reason is when you start something new you always have some sense of apprehension that often increases your tension for the future. In this situation, it is good to take consultation from an expert. The mentor would be a perfect one that not only motivates you but also provides proper feedback. The feedback of the mentor will help you in selecting the best skills, place of learning, duration of learning, future scope etc. Sometimes we also need mentorship even after the training program. Mentor will understand your problem whether they are analytical or language-related and provide you with the best solution as per the needs of the industry. In this manner, a mentor will favourably smooth your journey in this sector and nourish you to get the desired job in Data Science.
Practice on Tools and Techniques
Most of the training is focused to provide learning of theoretical aspects of the course. Trainees are hardly able to get good exposure to practical learning which further affects their learning. In Data Science training whatever skills you learn during the training, it requires a massive amount of practice. For attaining the same, you have to involve yourself with thousands of industry-based live projects. The discussion on solving the projects and assignments helps to get the desired outcome. Apart from this, these projects also help in the development of your analytics skills. It also gives you confidence that will help your smooth transition in Data Science.
Explore the Competitions & Challenges in Data Science
Every crisis is an opportunity depending on how you deal with the situation. Once you are in some problem, you get exposure to different ways to solve the problem. When you practice the live projects during your data science training, you come to know the challenges in the sector, their complexity and how we can solve them easily. This practice helps in sharpening your technical skills. Meanwhile, you can also participate in various Data Science competitions at the national or international level like hackathons, coding challenges etc. These competitions provide the platform for students to display their talent, skills and develop a network with global brains. Sometimes you are fixed in some problems in your current projects or assignment but not able to find the right solution but get the unique solution to get rid of during competitions. Moreover, these competitions adequately modify your problem-solving and decision-making ability following the tight restrictions of time and complexity of Data Science.
Networking and Promotion of Profile
Developing Network with your peer group members is an important aspect when you are planning your career transition in Data Science. A long network of relevant people helps you to connect the people smoothly. These people can be students of Data Science, Data Scientists, recruiters, trainers, marketing people, AI and ML experts etc. Various platforms can help you in networking like LinkedIn, Facebook, Indeed, Glassdoor and Twitter. You can find thousands of people from your field on these platforms. They also organise conferences and meetings with companies, recruiters, data science trainers etc. You can show your profile to many people who may be interested in your profile and can select you in their esteemed companies.
Important steps while transitioning into Data Science
Sometimes it happens that you are already working in some field and want to shift in data science observing the mammoth of opportunities in data science. Here, we have summarised some steps to make your transition easy in the field of Data Science.
1 – Analyse your work in your current field
When you are working in some field already, it is always difficult to suddenly jump into a new sector. For that, it is always advised you do complete research before entering into the field. You should also have a valid and significant reason for your transition so that once you move into the new sector you do not feel worried and regret about the scope.
2 – Get desired Qualifications
Once you have decided on a transition, you should have the required qualification for Data Science. For that, you need to enrol yourself in a specific data science course in the best institute. Having any degree or certificate can smooth your transition in data science, as you won't feel deferred once come.
3 – Making Attractive Profile
An attractive profile is the first thing that brings the attention of recruiters. Entry into the data science sector begins with making a powerful resume. Your resume should include education qualification, certification details, knowledge of tools and techniques, exposure to data science projects. Once you are satisfied with your resume and profile now you can promote or share in your network.HOW TO WRITE AN EFFECTIVE DATA SCIENCE RESUME
4 –Approach to recruiters
Sometimes you get the desired job easily and sometimes you have to search a lot. Although data science is such a sector where you can get thousands of jobs on every platform every day. Besides this, you can send your resume to recruiters through social platforms like LinkedIn, Naukri.com, company career pages etc. You can also follow the pages of companies on social media platforms where you can get updates regarding the data science jobs in their organisation.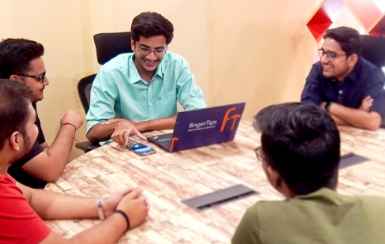 Ashpreet Kaur - Jul 2, 2021
Exercitation photo booth stumptown tote bag Banksy, elit small batch freegan sed. Craft beer elit seitan exercitation, photo booth et 8-bit kale chips proident chillwave deep v laborum. Aliquip veniam delectus, Marfa eiusmod Pinterest in do umami readymade swag.