Looking to specialize in Artificial Intelligence
Every time we hear the term Artificial Intelligence, we imagine digital assistants, robots, chatbots, and self-driving vehicles. Artificial Intelligence is emerging swiftly; it is a relatively modern technology and has a lot of requirement of engineers and experts.
Check out the Fingertips Data Science Masters Programme
Artificial Intelligence career landscape
For a while now, AI has been a sound career choice, and as the adoption of AI in different verticals continues to grow, the demand for qualified professionals to do the jobs generated by this expansion is also growing. While many AI experts have predicted that this technology would wipe out a large number of human jobs, there are also other experts who have said that this would create many interesting and viable job opportunities. Hence, it is an opportune time to gain expertise in this domain.
Educational requirements
If you are fascinated by AI and unsure about how to get started, then having a Bachelor's degree in computer science or related fields is the essential requirement. However a bachelor's degree does not quite suffice the required skill sets. You can seek additional training to land a good position. Bachelor's engineering courses do not include much practical training. Therefore, recruiters are unable suitable candidates. In such scenario if you have an extra training, that is definitely a bonus point. There are various institute that provide training and even placement opportunities to students. Learn more
Popular job roles
Machine Learning Engineer
Robotic Scientist
Data scientist
Research scientist
Business intelligence developer
Top subsets of Machine learning AI
Artificial Neural Networks
Artificial neural network is a subset of AI that Is meant to simulate the behavior and dynamics of human brain. It is the foundation of artificial intelligence. It enables us to solve problems that would otherwise be impossible to solve through conventional programming methods.
Natural language processing
Natural language processing is the domain that enables computers to comprehend and process human languages. It is a significantly monotonous task to teach a machine about how to process natural languages. A lot of research has gone into this domain. A lot for companies are working on natural language processing.
Computer vision
One of the most amazing things in the field of deep learning and AI is computer vision. With the help of the contributions that deep learning has made, computer vision has made some significant advancements. Following are some applications of computer vision-
Identifying staged auto damage
Signature verification
Surveillance
Top companies that are hiring AI experts
Amazon
Microsoft
NVIDIA
IBM
Facebook
Accenture
Intel
Samsung
MoTek Technologies
Lenovo
Adobe
Uber
PCO Innovation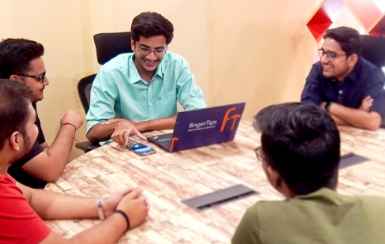 Ashpreet Kaur - Jul 2, 2021
Exercitation photo booth stumptown tote bag Banksy, elit small batch freegan sed. Craft beer elit seitan exercitation, photo booth et 8-bit kale chips proident chillwave deep v laborum. Aliquip veniam delectus, Marfa eiusmod Pinterest in do umami readymade swag.