Top career opportunities after MBA in Business Analytics
Business analytics is becoming an integral part of the daily operations of a company, due to this work opportunities in this sector are increasing. The demand for MBA graduates with analytical skills is growing and, thus, analytics has become a fairly recent and common management specialty.
In today's world, almost every organization has substantial abundance of data, but all of this data remains unprocessed in the storage. However, making use of this data in order to gain meaningful knowledge and insight has become a crucial factor for every competent organization. Business analytics is incredibly useful in this scenario.
Data Analyst
The primary function of a data analyst is to exploit available datasets and extrapolate meaningful insights. In general job role of a data analyst can be considered to be of data exploration. It includes visualization and analysis of data using different tools. A data analyst is required to have substantial hands on expertise in programming (eg- Python, R) and an aptitude for mathematics.
Check out the Fingertips Data Science Masters Program
Big Data Analyst
The responsibilities of a data scientist and a big data analyst can be confused with each other because both of them work with big data. Big data analysts are also expected to carry out competitive market analysis to figure out primary trends in the industry. Big data analysts are also required to have expertise in following tools and technologies- SQL, MS-Excel, Tableau, Spark, Hadoop, R, Python etc.
Business Analyst
Business analysts seek to understand evolving business demands, determine the effect of these changes, define and evaluate priorities, and promote contact with all concerned stakeholders. It is reported that almost 90% of all companies have set up analytics in their operations over the past five years. Even in IT domains, Business Analytics has become a prominent practice
Data Scientist
Data Science takes advantage of AI to make sense of historical data and identify data patterns. The responsibilities of a data scientist includes various duties such as- determining which Machine learning Algorithm to use based on statistical analysis, model deployment and even model optimization. A data scientist is required to have expertise in various fields such as- Programming, statistics, mathematics etc.
Top Recruiters for MBA in Business Analytics
Amazon

Google

HCL

Facebook

KPMG

Wipro

Deloitte

Accenture

Morgan Stanley

Infosys

Reliance

Tata Group

American Express

LinkedIn

Microsoft

Adani Group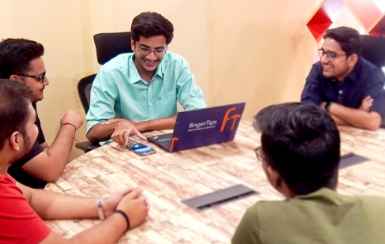 Ashpreet Kaur - Jul 2, 2021
Exercitation photo booth stumptown tote bag Banksy, elit small batch freegan sed. Craft beer elit seitan exercitation, photo booth et 8-bit kale chips proident chillwave deep v laborum. Aliquip veniam delectus, Marfa eiusmod Pinterest in do umami readymade swag.