Which search engine do you open when searching for the best places to visit or the best places to eat? Mostly Google, right? Google is without a doubt, the most used search engine. Which ultimately, makes it the best place to advertise products/services of the brand. Therefore, in the blog, we'll be seeing how to become a Google ads specialist. We'll be including all the elements like Google ads specialist salary, how to get a Google ad specialist job, and much more. Let's start the blog by understanding Google Ads.
Understanding Google Ads
Google ads are online advertisements platform that allows businesses to create and run on Google platforms, like search engine, mobile apps, YouTube, etc. Google Ads is basically a pay-per-click platform for advertisement purposes.
This is an effective way to reach your target audience, engage them, and drive traffic to your website. Marketers are required to pay a big, which is the maximum amount you're ready to pay for a particular ad. This way, you'll have a fixed pre-decided budget and won't be spending more than you've fixed.
Before seeing how to become a Google Ad specialist, let's see who is a Google Ad specialist.
Who is a Google Ads Specialist?
As understood by the job title, a Google Ad specialist is a professional responsible for running Google Ads and managing them. The person is required to plan the ad, arrange for the resources, run the ad, and manage the whole campaign.
Many business chooses to hire a Google Ad specialist to manage the whole process because either they don't have knowledge of the same or don't have time to do it on their own. Every business is now running ads on the Google platform to get some business done and that is why the demand for Google Ad specialists is high. Let's see how to become Google AdWords certified and get into the field.
How to Become a Google Ads Specialist?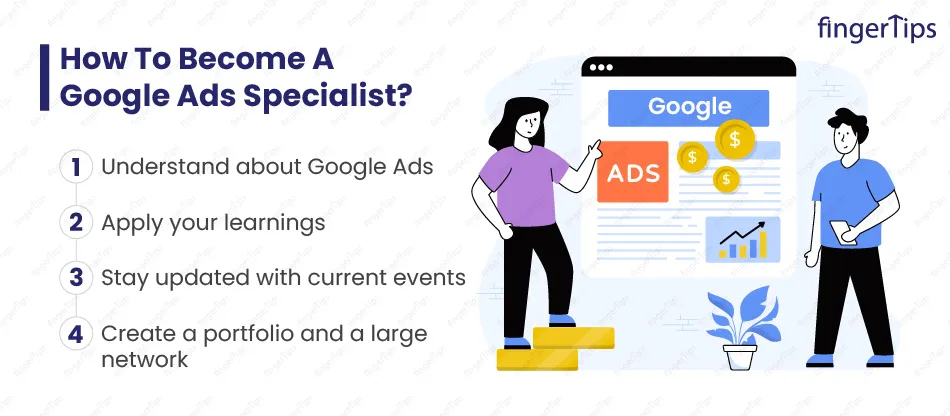 Now that you've made your career decision to become a Google ad specialist, let's help you in your learning journey by describing the step-by-step guide on how to become one.
Step 1: Understand about Google Ads
You've to begin with understanding the principles of digital marketing which can be done by enrolling in a good online program. Make sure the course involves a detailed curriculum about Google Ads and how to manage them.
Step 2: Apply your learnings
The next essential step to becoming a Google ads specialist and getting certified is to get as much hands-on experience as you can. Practice how to set up multiple campaigns and manage them together.
Step 3: Stay updated with current events
The field of Google Ads falls under PPC, which is one of the important elements of digital marketing. And, it is important for an aspirant and for a marketer to stay updated with the latest trends in the field of digital marketing. One can do so by reading blogs, attending webinars, and so on.
Step 4: Create a portfolio and a large network
Create a sample portfolio to showcase your work and skills to the recruiter in the future. Along with this, make sure to network with multiple professionals in the field by staying active on social media platforms like LinkedIn. Building connections will help you to grow in your professional life.
In short, these are the steps that'll guide you in getting your Google ad specialist job. Now, let's see what skills you must have or develop to build a career in the field.
Skills Required to Become a Google Ads Specialist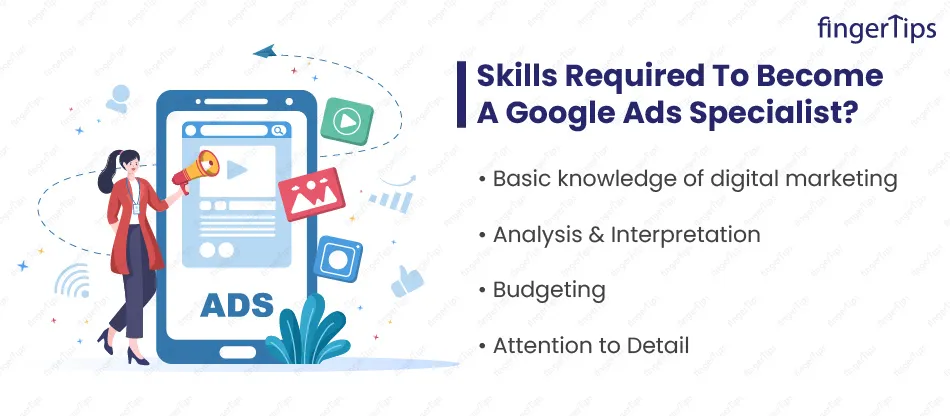 While training to become a Google Ads specialist, one must acquire certain skill sets to perform the job successfully and get great results for the brands. Those bunch of skills are:
Basic knowledge of digital marketing
Not in depth, but a professional working in the same field should have a basic understanding of larger elements of digital marketing like email marketing, social media marketing, SEO, and so on. This will help you understand the overall position of the brand's digital presence.
Analysis & Interpretation
Google Ads involves working on campaigns, measuring them, analyzing them, and based on the observations making essential updates in the campaigns. Therefore, experts in analysis and interpretation must require skill for one to become Google Ad Words certified on a professional level. Along with that, knowledge of essential metrics like ROI, conversions, impressions, etc is required.
Budgeting
Google Ads campaigns are operational for particular budget allotments, therefore experts must manage the funds wisely. To get the most out of Google Ads performance, you need to have good budgeting and quantitative skills.
Attention to Detail
The very famous Google Ads platform has multiple variables that affect the success of the campaign. The specialist working on a specific campaign need to concentrate on these variable and spot errors or changes before they affect the campaign.
Now, you're very well aware of the skills an individual requires to become a Google Ads specialist. But, before getting into the field, one must also know about what these professionals do. And, to answer your doubt on this, we've given the job description below.
Google Ads Specialist Job Description

The profile of Google Ads professionals is rather versatile and they can work on single or multiple projects based on the organization's requirements and professional skills.
Plan the campaign: Based on the company's requirements, the professionals first plan the strategy and come up with multiple strategies to make the plan successful.
Launching the campaign: Now, after conducting the necessary research, a specialty launched the campaigns with adequate linking of the landing page and content to make the most out of the budget spent.
Monitoring the performance: The work of professionals doesn't end here as continuous monitoring and analysis of insights are required on metrics like reach, impression, CTR, etc.
Report framing: These professionals are answerable for the performance of the campaigns to project managers. Thus, they create reports on a timely basis to measure the improvements and to identify the areas of development.
Testing: Along with managing the campaigns, specialists are required to perform research to identify which ads run better. This is done by testing various types of ad copy with different formats to come to a better and more calculated conclusion.
These are some of the major responsibilities and tasks that are performed by the Google Ads Specialist. Based on advanced skill sets, many professionals are capable of handling more work and responsibility under them.
Qualifications Required to Become a Google Ads Specialist
To become a Google Ad specialist, who proves to be a valuable asset for the organization, he/she must have essential educational qualifications, skills, and experience. Regarding educational qualifications a bachelor's degree either in marketing or advertising, would be an advantage.
Other qualifications involve knowledge of digital marketing elements, especially in PPC. Along with this, basic understanding as well as hands-on experience with tools like Google Analytics enhances the credibility of the professional.
The field of Google Ads specialist is highly practical. More than educational qualifications, skills are valued here. So, hands-on experience either through internships, freelancing work, or other projects is highly valued in the job. Apart from this, continuous learning is key to success in the field.
After seeing so many deciding elements of the field, one essential factor that is still not covered is salary in the profile. Let's see what's the Google ads specialist salary range.
Google Ads Specialist Salary
The pay for a Google Ads Specialist in India varies depending on several variables, including experience, skill level, and place of employment. Mid-level professionals may command wages in the range of INR 5,00,000 to INR 8,00,000 per year, while entry-level specialists normally earn between INR 3,00,000 and INR 5,00,000 yearly. Senior Google Ads Specialists can make upwards of INR 8,00,000 to INR 12,00,000 per year if they have substantial expertise and a solid track record.
Do you too want to be in demand and make your career future-proof? Enroll in our Digital Marketing PAP Program now and master the most in-demand digital marketing skills! Apply Now!
Depending on the industry, salaries may vary; tech corporations, e-commerce businesses, and digital marketing agencies all offer competitive pay. To offset the increased cost of living, metropolitan cities and tech clusters like Bangalore, Mumbai, and Delhi sometimes have larger income ranges. Depending on the projects and clients they work with, freelancers' annual incomes may range from INR 2,00,000 to INR 5,00,000 or more.
Conclusion
If you're a business owner, professional working in marketing, or advertiser, the knowledge of Google Ads is a must required. Now, if you're interested in building a career in the field, you've made the right decision. With multiple resources, guides, and online training programs, becoming a Google Ads specialist is much easier now. We hope the guide came in handy for you to make the right decision. All the best for your future endeavors.