If you've come across this blog, the possibility is that you're considering becoming a data engineer. And you already know most of the things about the field. But are you confused about the demand for data engineers in the field? This blog will guide you toward a data engineering salary. The blog also has a detailed description of the salary range of data engineers based on various factors like state, position, company, job title, and much more.
Let's quickly see what is data engineering and what is data engineer role and proceed toward the salary discussion of the same.
What Is Data Engineering? What Does A Big Data Engineer Do?
Data engineering is the process of gathering, presenting, and keeping data in a way that the data scientist can use quickly and simply. Data mining, data modeling, data acquisition, and many more components make up the large field of data engineering. The task of building data pipelines to aggregate data from numerous source systems frequently falls to these software engineers. They integrate, consolidate, and clean the data to make it ready for usage in analytics applications. The amount of data these engineers work with is solely based on the size of the company they are employed with.
To understand how to become a data engineer, it is important to know what a data engineer does. Big Data Engineers combine these two ideas, data science generally and big data specifically, to transform massive volumes of data into meaningful models and insights that support an organization's success.
The following are typical daily duties and tasks for a big data engineer:
Gathering and handling large sets of raw data.
Transforming unstructured data into an analysis-ready format.
Designing and creating big data systems and applications.
The upkeep, testing, and updating of those systems.
Performing routine data-related chores, such as creating scripts, SQL queries, and API calls.
After seeing the data engineer job description, let's see our big data engineers in high demand.
Are Big Data Engineers In High Demand?
Every organization nowadays is using data mining for expansion and development. Companies use data not simply to make strategic decisions but also for heavily research-oriented campaigns and initiatives. Industries are moving towards a data-driven strategy to determine what their customers want and how well they are performing in the market.
Data engineers are in high demand because of this. A new poll indicates that demand for jobs in data engineering has significantly increased. The annual compensation of a Big Data Engineer at the entry level is roughly Rs 466,265. The typical annual pay for a junior big data engineer (with 1 to 4 years of expertise) in the early stages of their career is Rs 722,721. Mid-level Big Data Engineers (5–9 years of experience) get Rs 1264,555 a year in income.
However, the salary range mentioned above is just an average. Data engineer salary in India differs largely based on experience, location, job title, company, etc. Let's see the data engineer salary based on such criteria.
Big Data Engineer Salary Based On Experience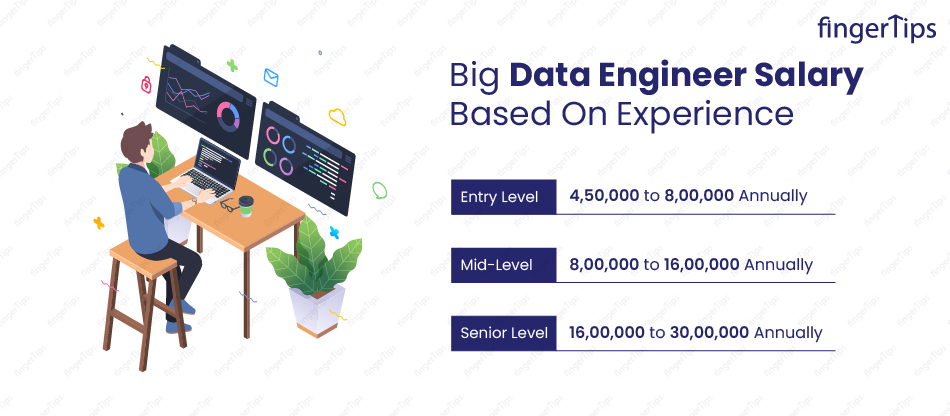 The salary for any job profile isn't the same for every position. A senior data engineer salary would definitely be much higher than a beginner data engineer's. The level of experience a Big Data Engineer has will also affect their pay in India. Based on their degree of experience, the following table provides a preliminary estimate of the compensation range for Big Data Engineers in Indian rupees (INR):
Big Data Engineer at Entry Level: 4,50,000 to 8,00,000 Rupees per year
Big Data Engineer at Mid-Level: Rs. 8,00,000 to Rs. 16,00,000 yearly
Big Data Engineer at the Senior Level: Rs. 16,00,000 to Rs. 30,00,000 annually
It's crucial to note that these statistics are only approximations, and actual pay can change depending on things like firm size, industry, region, and the person's particular skill set and amount of experience. The exchange rates and cost of living in various Indian cities and regions may also have an impact on these numbers.
Big Data Engineer Salary By Geographic Location
Geolocation, or where the employer is located, where the business is located, and where the applicant is applying from, are additional factors that influence candidates' salaries. Greater compensation packages are available in IT centers like Bangalore, Pune, and Mumbai than in non-IT cities like Kolkata and Jaipur. For you to get a better understanding, let's look at what the statistics have to say.
Mumbai offers an average of 7 LPA.
Ahmedabad offers 4 LPA on average.
Bangalore offers 10 LPA.
Kolkata offers 5.1 LPA.
And so on.
Big Data Engineer Salary By Company
Not only skills, experience, and geographic location but other factors like the company you're going to work with also affect the data engineer salary India. Because of the scale and resources of the organization, a big data engineer working at a huge tech company like Google or Amazon might make more money than anyone working at a smaller startup. Big data engineers may potentially earn more money since their abilities are in great demand in sectors with fierce competition, such as finance or healthcare.
How To Become A Big Data Engineer
We've arrived at the last part of the guide, which will show you the data engineer career path. The blog has a step-by-step guide on how to become a data engineer.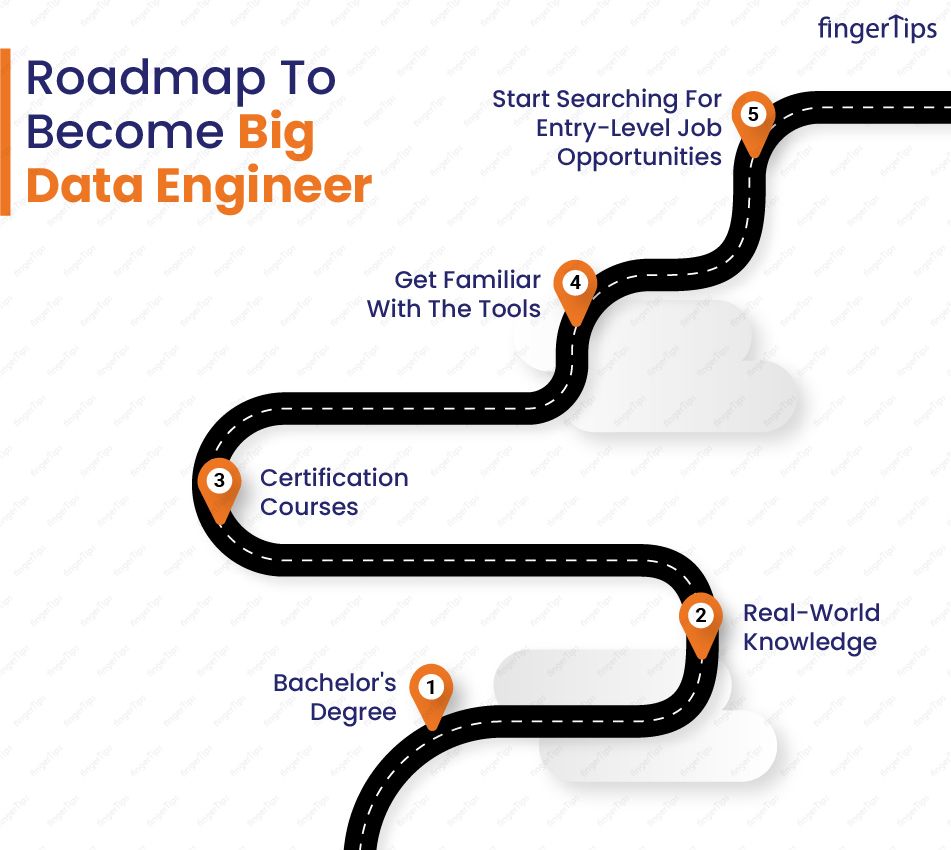 Step 1: Bachelor's Degree

Data Engineering is a technical field, and it requires a certain set of technical skills like programming languages, database management, and more. If you've not completed your bachelor's degree, consider getting it in related fields like computing science, data analytics, statistics, etc. If you've already graduated with a non-tech degree, you can still proceed in the data engineer career path toward the second step.
Step2: Real-World Knowledge
Your next important step in the data engineer career path is getting practical exposure in the data engineer world. Data Engineering is not a theory-based role. You can perform certain projects and start preparing your portfolio, that'll help you gain practical exposure to the field. Also, this portfolio will help you get your first job as a data engineer.
Step3: Certification Courses
Now that you've done some practical projects in the field and have got a fair idea of working, you can start to think about investing in some courses. Certification courses in the field will help you get industry exposure and real industry knowledge. Make sure to select the best certification course that comes with various advanced benefits like practical training, career support, best mentors, etc.
Step4: Get Familiar With The Tools
As a data engineer, you would be required to learn various tools related to database management as that will be your main field of work. To start with, you can start learning about SQL & NoSQL. These are the most basic as well as most-used database management tool used by big data engineers.
Step5: Start Searching For Entry-Level Job Opportunities
You'll require lots of experience to get the data engineer job. And to get there, you've to start working at certain entry-level jobs. For instance, working as a developer for a period of time will only be beneficial; this job may be simpler to obtain. Similarly to that, training to be a data analyst might be an excellent first step toward data engineering. Any position involving computers or data will provide you with valuable abilities. So these are some of the steps that'll guide you toward a data engineer career path.
Our Data Science Masters Program will help you take your skills to the next level and prepare you for a rewarding career in data engineering. Enroll now to start your journey!

Conclusion
We've discussed all you need to know to begin a career as a big data engineer in this piece, which also introduced the idea of data engineering. As we've discussed, the position can be demanding but also rewarding. Data engineering demands commitment and long-term thought, yet there are several paths you can choose and virtually unlimited opportunities for advancement.