Data Engineering is a wide and very important domain that deals and works with data. But not everyone is very well aware of what data engineering is and what is data engineer's role. Other than that, people often confuse data engineers with data scientists. So, to clarify all your misconceptions and assumptions, continue reading this mini guide on the topic.
In the blog, we'll see what data engineering is, what do data engineers do, what are data engineering skills required, and much more. Let's start with the basics.
What Is Data Engineering?
The process of creating and constructing systems that enable users to gather and evaluate unprocessed data from many sources and formats are known as data engineering. These technologies enable users to discover useful data applications that firms may employ to succeed.
It is a very broad field that involves using various data modules and data processing techniques, including data infrastructure, data mining, data processing, data acquisition, data modeling, and data management.
What Do Data Engineers Do?
The design, upkeep, and optimization of the analytics platform for data collection, storage, conversion, and access are within the responsibility of data engineers. They are in charge of developing the pipelines that transform unprocessed data into types that data scientists and other users of the data can use.
Data engineers help businesses organize and access their data quickly and flexibly while also providing the infrastructure necessary for teams to produce excellent observations and analytics from that data. Data engineers carry out a wide range of duties, such as:
Finding all the many data sets relevant to the business through acquisition
Recognizing and correcting any data errors
Conversion: Assigning a consistent format to all the data
Understanding the information that can be used in several ways.
Applying methods for data duplication.
Data can then be kept in a central repository, such as a data store or data lakehouse, after this is finished. Subsets of data may also be copied and moved into a data warehouse by data engineers.
You might be wondering is data engineering a good career, or is it important in the market. This doubt of yours will be cleared after reading our next topic, which is why data engineering is important.
Importance Of Data Engineering
In the era of big data, data engineering is crucial. Businesses may access a wealth of data from both the physical and digital worlds. Many data sources might result in information overload, even though this can be a huge benefit to organizations. As a result, data is dispersed, making it difficult for the company to derive insightful conclusions and have a clear view of its operational processes. Data engineering is crucial in this situation.
The information gives a thorough picture of the customer. The fact that these many datasets are independent makes it challenging to provide answers to some issues, such as which kinds of orders incur the highest expenditures for customer service. You may rapidly and effectively find out the answer to your problems thanks to data engineering, which integrates these data sets. Knowing this, there's no doubt that data engineering is a good career option for you. For that, you must know about the skills required for a data engineer and how to become a data engineer. Both of these important topics are covered below.
Essential Data Engineer Skills
There are certain data engineer key skills that you must know as the field belongs to a technical domain. Let's see the skills required for data engineer.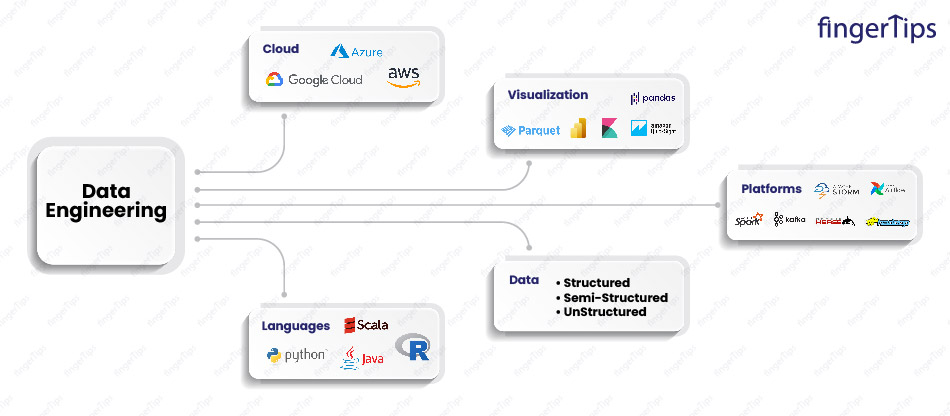 Tools For Database
As mentioned earlier, the core responsibility of a data engineer is storing data, managing it, and organizing it. So, it is important for the data engineer job description that one knows about the tools involved, like SQL, NoSQL, MongoDB, DevOps, and much more. These tools will help the engineer to frame the data warehouse, manage it and analyze the business problem.
Basics Of Machine Learning
Although data scientists are primarily interested in machine learning, data engineers may find it useful to possess at least a little understanding of using this type of data. Gaining expertise in statistical analysis and data modeling will enable you to provide solutions that apply to peers and make you stand out as a valuable asset to any firm.
Cloud Computing Tools
One of the main responsibilities of big data teams is going to set up the clouds to store data and guarantee its high availability. As a result, it becomes a crucial talent to develop while working with huge data. Depending on the need for data storage, businesses deploy hybrid, public, or internal cloud architecture.
Data Visualization
Data visualization is the process of presenting data in the form of visual representations like charts, graphs, animations, etc. This process helps to make sense of complex data. The created insights and learnings must be presented in a way that the end users may easily consume them. Tableau, TibcoSpotfire, Qlik, Plotly, and other widely used visualization tools can be learned to get essential data engineer skills.
Python Programming Language
The most popular programming language nowadays is Python, which is ranked third among programmers' favorites. To be able to create complicated, maintainable algorithms, data engineers must be fluent in Python. This language offers a solid basis for big data support and is effective, flexible, and ideal for text analytics.
Data Buffering
One of the other essential data engineer skills is data buffering. Data buffering is storing the data temporarily while it is transferred from one device to another. Since the data engineer manages the data and the huge amount of data is hard to handle, this is one of the important tools you must know. The most common tools for this concept are GCP Pub/Sub, Kinesis, etc.
Critical Thinking
Other than some of the technical skills, data engineering skills require on-technical skills too. And one of those important non-technical skills is critical thinking. Data engineers are not only required to manage the data but also to come up with creative and interactive solutions to the existing problems in the organizations.
Communication Skills
Data engineers are required to communicate and work with various other technical people. You have to work with seniors and experts such as data scientists and data analysts. Other than that, you might be required to share your gathered insights from people who are not from a technical background. In such a case, you must have strong communication skills so that you can collaborate effectively.
Managing Time
A data engineer that is skilled at managing their time well can enhance all areas of their career. In this line of business, several tasks might keep you up at night, so being able to organize your day and stay to it is a huge advantage.
These were the most important data engineer skills that one must have. Let's see our last topic of the guide which is how to become a data engineer.
How To Become A Data Engineer

So, reading up here, you might have already guessed that data engineering is one of the fasted growing careers that have amazing benefits. There are a few basic steps in no particular order that one can follow to become a data engineer.
Have A Bachelor's Degree
Although numerous factors are just as crucial to this profession's entry as formal schooling, most employers still demand that data engineers hold a bachelor's degree or higher. If you're sure to enter this field, try getting your degree in a technical field like statistics, physics, or computer science. Also, if you already have a bachelor's beyond the technical field, you can skip to the next step.
Get Enrolled In Certification Courses
Getting enrolled and learning from courses is a great way to upskill yourself and gain knowledge, especially if you're from a non-technical background. Make sure to invest in the best data engineering courses and get certified by reputed universities to enhance your resume.
Build A Portfolio
After gaining enough theoretical knowledge, start applying this knowledge. It is important to know how to manage, organize and work with data in real life. Also, showing your work portfolio to the recruiters will create an additional impression during your interview. Start with doing basic projects and add them to your portfolio.
Enroll now and take the first step towards becoming a skilled data engineer in today's rapidly evolving tech industry.

Start Applying Or Aim For A Master's Degree.
Based on your area of interest, if you want to start working in the field immediately, start applying for entry-level positions. The portfolio of your projects will help you in getting your job. On the other hand, if you want to increase your skills, you can aim to get a master's degree in the field.
So these were the basic steps or guidelines that'll help you to create your career in the field of data engineering. Let's wrap up the blog now.
Conclusion
Getting experience is the hardest part of being a data engineer. Studies show that this talent is among the highest-paid in the sector, and the trend is expected to remain, perhaps we should say, adapt and rise—shortly. We covered what data engineers do, essential data engineer skills, and most importantly, how to become a data engineer, and we hope you're now clear with the whole concept. Obtaining certifications and gaining practical experience by investigating new data sets and incorporating them into actual use cases are the best ways to develop these data engineering abilities. Good luck with your learning!