With more businesses and brands strengthening their online presence, digital marketing is becoming the most often spoken topic. And every marketer, and advertiser, is keen to know more about digital marketing, tools, techniques, and fundamentals of digital marketing. Every business, whether small, medium, local, international, etc., is now leveraging the benefits of digital marketing. In this blog, we'll see what digital marketing is and the various fundamentals of digital marketing in detail.
What Is Digital Marketing?
Digital marketing is promoting the product/service or brand through online media such as social media, emails, SMS, etc. Digital marketing helps brands to engage and reach the right audience at the right time. Being active on social media might help quicken and shorten the buying process by assisting in decision-making.
Suppose you've got a brand, and as a marketer, you got to know about social media. You got to know that your target audience stays active on social media, emails, and browsing search engines. Wouldn't you want to advertise yourself there?
That is what digital marketing helps brands and advertisers do. With the help of various fundamentals of digital marketing, you can reach out to your audience via SEO, PPC, emails, social media platforms, etc.
After knowing how digital marketing works, you might want to know about the different fundamentals of digital marketing. Let's see that in our blog.
Your Digital Marketing Career Is Just Few Clicks Away
Digital Marketing Pro Program
Explore Now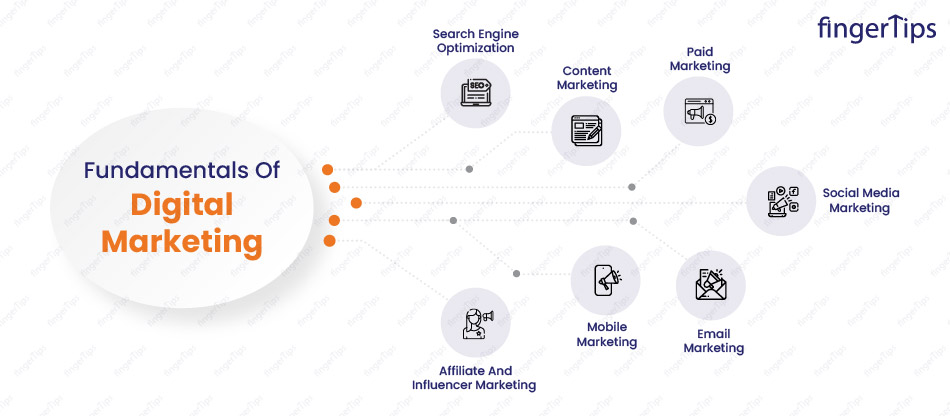 Fundamentals Of Digital Marketing
You can use a variety of digital marketing strategies to widen your audience. You can mix a brunch of approaches that will produce the best results for your brand. Here are seven of the most successful fundamentals of digital marketing to assist you in deciding which ones would be most beneficial for your company:
Search Engine Optimization (SEO)
SEO is among the most used tool of digital marketing. SEO refers to the practices and techniques undertaken to increase the visibility and rank of a website on the search engine result page. Elements like content optimization, link optimization, keyword targeting, and placing play a significant role in SEO. Not only this, SEO is further divided into twelve different types, which are Black-Hat, White-Hat, Gray-Hat, International, Local, Technical, Content, On-Page, Off-Page, Mobile, Ecommerce, and Negative SEO. Performing SEO is relatively inexpensive when compared with other fundamentals of digital marketing. With an experienced SEO expert and team, the process can be completed with ease.
With this, let's move to our next element of digital marketing.
Content Marketing
Content marketing is a vast element of digital marketing, and it includes the process of creating and spreading valuable content to a relevant audience. In today's digital world, we don't think anyone would be unaware of the word content. In our daily life, we consume content in various ways and forms. Let's see how brands, marketers, and advertisers use content marketing. Brands often focus on providing solutions to the consumer's problems with the help of content marketing. By doing this continuously, your brand will be the first one when a consumer thinks of making a purchase.
The audience, either you or me, will buy the product/service from someone whom we trust. And therefore, content marketing is all about building that trust between the brand and the audience.
The three main pillars of content marketing are valuable, relevant, and consistent.
Valuable: Come up with the content that is needed by the audience.
Relevant: Provide content that is related to your niche.
Consistency: Provide content regularly instead of showing up once a month.
Next, in the blog, we'll see paid marketing.
Paid Marketing
One of the fastest methods of reaching your potential target audience is through paid marketing. When a brand creates promotional content for the audience and advertises that, it is considered paid marketing.
Paid marketing can be performed on various mediums like social media platforms, websites, SERP, etc. In the process, brands are first required to discover the potential platforms and shortlist some of them. Then the brands are required to finalize the type of advertisement and include a CTA, and then analyze the ad performance and evaluate it. This paid advertising method helps the brand to increase brand awareness, boost consumer interaction, reach the target audience, and boost traffic and sales. How successful paid marketing becomes for your business depends on the marketing tactics used by the marketers or advertisers.
Interested In Digital Marketing
Look No Further
Digital Marketing Pro Program
Enroll Now
Social Media Marketing
As you might already know, social media marketing is the process of using social media platforms to reach the target audience and increase brand awareness, sales, and traffic. The concept of social media marketing is powerful and successful due to the high usage of social media platforms among the audience.
Let's see the process of successful social media marketing:
The first step is to design and plan the strategy for various social media platforms.
The second step is planning the content for the platforms. Finalize the content, design, schedules of posting, etc.
After finalizing these, now, start the research process. Research the audience and trends on social media and come up with the targeting options.
Then comes the publishing part. After all the plans and strategies, go ahead with publishing, ads, campaigns, etc.
Then finally, monitor the working of strategies and plans.
Now, let's see the following fundamentals of digital marketing.
Email Marketing
Email marketing is using emails as a marketing strategy and reaching out to the target audience to update them about a brand. The marketing strategy is well-known for informing the consumers about offers, sales, discounts, new product launches, etc., of the brand. Email marketing can establish a connection with your audience and increase traffic to your blog, social media accounts, and other websites you want people to visit. Also, email marketing enables you to execute A/B tests on a subject line or call to action to determine the message that performs the best.
Mobile Marketing
Any advertising activity performed with mobile devices, such as smartphones, tablets, etc., is considered mobile marketing. This is among one the fundamentals of digital marketing that is quite popular and is used by a majority of marketers and advertisers. The audience of this generation is so glued to their phones that not using this marketing technique would be a huge opportunity loss for marketers. There are various types of mobile marketing app-based marketing, social media marketing, SMS, mobile search ads, and location-based marketing.
Mobile marketing, as opposed to traditional marketing strategies, makes use of the fact that many mobile device users take their gadgets with them everywhere they go. Because of this, location-based services can gather client information and then provide coupons, discounts, or promotions based on how close they are to a store or another area that the customer frequents.

Affiliate And Influencer Marketing
Via affiliate marketing, a third party is used to promote a product, and they are compensated for each transaction. It involves making use of someone else's influence for your gain. The affiliate advertises the product, whether it be a good or service, using any platform, such as a blog or YouTube video. When someone clicks on the affiliate link for the product and subsequently purchases it, the affiliate gets paid a fee. Due to the increased use of social media platforms, the audience is quickly getting influenced by social media celebrities and influencers. Marketers identify such influencers with the same audience list and ask them to promote their products/services in return for a certain amount of commission.
Conclusion
These were some of the most common and used fundamentals of digital marketing. To get desired results, marketers have to mix a bunch of fundamentals of digital marketing and apply them in their marketing strategy. If you're a brand, first research and identify the beginning of your digital marketing strategy and start implementing it. And, if you're keen to start your career in digital marketing, you can start learning by enrolling in the best digital marketing program.