Over the past few years, one word is going around circles which is Data. There are various fields related to data that are developed and are very much in demand like data science, data analysis, data engineering, and many more. This blog will guide you understand what is data engineering. Get to know what does a data engineer do, what are important data engineering skills, data engineer responsibilities, and much more. Let's begin with a basic understanding of what is data engineering.
What Is Data Engineering?
A software method for creating information systems is called data engineering, sometimes known as information engineering. Data engineering, to be transparent, includes obtaining, modifying, and managing data from diverse systems. The use and accessibility of the data are ensured by this method. Data engineering, in particular, places a focus on the impactful uses of data collecting and analysis. As a result, data engineering uses complex approaches, ranging from artificial intelligence to data integration tools, for obtaining and authenticating data. Similarly to this, data engineering uses specialized processes to apply discovered data to actual situations. This typically entails creating and overseeing complicated processing systems.
The quality of data engineers depends on the data they have at their disposal. Most businesses keep their data in a variety of databases and text file formats. Data engineers go in at this point to create the pipelines that convert the data into formats that data scientists can work with. Data engineers are just as crucial as data scientists, although they are typically less apparent because they are situated further away from the analysis's conclusion.
With this, let's proceed to know what are data engineer's responsibilities.
Data Engineer Roles and Responsibilities
To get one of the data engineering jobs, it's important to understand what are data engineer roles and responsibilities. Data engineer roles and responsibilities depend largely on two things which are the company they work for and also at which level they're working. But the important data engineer responsibilities are:
Collect & Work On Data
The correct data must be gathered from the appropriate sources before they can start working on the database. Data engineers then store the processed datasets after creating a set of processes. They plan, develop, and maintain data architectures systematically while also keeping them in line with business needs.
Automating The Task
A significant part of a data engineer's job is automation. Automating processes reduces the time and effort needed to execute repetitive operations, reduces errors, and boosts productivity. Data engineers may concentrate on higher-value, more strategic activities including developing and optimizing data architectures, enhancing data quality, and collaborating with data scientists and business analysts to deliver insights and influence business choices by automating these jobs.
Data Security
A data engineer is accountable for data security. Data engineers play a crucial role in assuring the security of the data that is stored and processed within such systems because they are in charge of developing, implementing, and maintaining data systems and infrastructure.
Data engineers must understand and abide by best practices for data security, which include putting in place access controls to restrict who can access and alter data, encrypting sensitive data both in transit and at rest, and keeping an eye out for unauthorized access or data breaches.
Some of the other responsibilities include:
Creating and putting into use data architectures and pipelines
The creation and upkeep of data processing systems
Combining information from different sources and formats
Ensuring the correctness, consistency, and quality of the data
Optimizing data storage and retrieval by designing and implementing data models
But many people think data engineers are not as critical for the organization as compared to data analysts or data scientists. But, our next topic which is how data engineers bring value to organizations will clear your myth.
How Data Engineers Bring Value to Organizations?
The three main reasons that shows data engineer requirements for the organization or that shows how data engineer are important are mentioned below:
Organization Of Data
Data scientists and analysts collaborate closely with data engineers. They contribute to better analysis and interpretation by making the data simpler to understand and comprehend. Data engineers simplify tasks like cleaning and grouping data sets, which helps the business utilize raw data. Additionally, it allows the data analysts or scientists on your team to concentrate completely on their work.
Accuracy Of Data
Data engineers make sure that the organization's data is accurate, dependable, and current. They create and put into practice data validation and quality tests, which aid in error prevention and guarantee that the data is reliable. This is crucial for businesses that significantly rely on data to make choices or run their operations.
Scalability And Dependability
Data engineers create and put into place data systems that can handle increasing data and traffic quantities. Additionally, they make sure the systems are dependable and accessible, reducing downtime and guaranteeing that the business can access its data as needed. This is crucial for businesses that handle large amounts of data or work in sectors where downtime can be expensive.
Now that you're aware of the whole working and importance of a data engineer, the important part for you finally comes which is how to get data engineer jobs or how to become a data engineer.
How to Become a Data Engineer?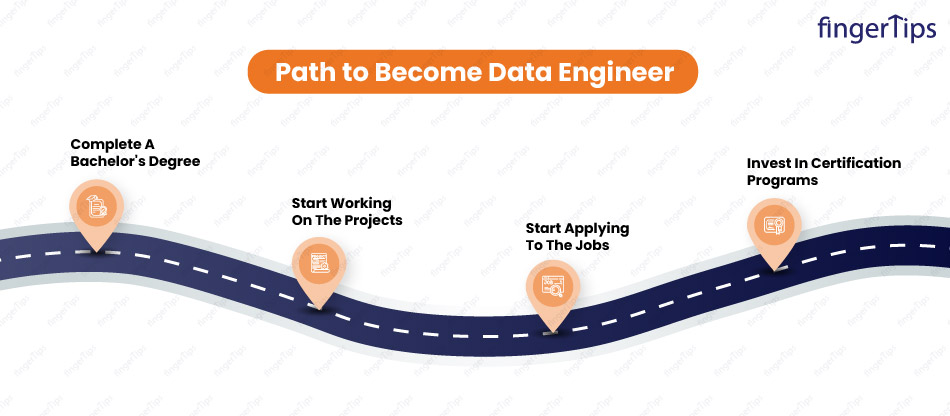 There are numerous career prospects in data engineering. The data engineer helps businesses scale and make the most of their data resources, whether they are large internet corporations, small startups, or healthcare systems. But you must be aware of what it takes to become a data engineer and continue to be relevant in the industry.
Let's see a step-by-step on how to become a data engineer and how to land data engineer jobs.
Complete A Bachelor's Degree
Data engineering is a technical field and it would be beneficial if you earned a bachelor's degree in any technical field. But, if you've already done with your college bachelor's years without any technical background, it won't be an issue. Regarding the educational background, there's only one compulsion to have a bachelor's degree that too in any of the fields.
Start Working On The Projects
The Internet has every possible educational material that you may need to get started in the field. You can start learning from the free resources that are available online. Once you're aware of the concepts, you can start taking on the sample projects to develop the data engineering skills that are necessary. Having a portfolio for the projects or the sample projects will help you in earning your next job.
Start Applying To The Jobs
The fact that there are many job vacancies with the title "data engineer"—including those for big data engineers, cloud data engineers, and data architects—should be kept in mind if you are searching for data engineering possibilities on job search engines. Finding a better fit between your knowledge and what the organization requires can help you find a position because the precise abilities and requirements will differ from one position to another.
Invest In Certification Programs
After you've gained some experience in the field and you've learned data engineering skills, it's time to invest some money in professional programs. To reach a high level of authority in an organization, you must keep upskilling. You can find the best certification programs online and start pursuing them. These programs will help you in getting your desired level of the job. This brings us to our last and most important topic for the guide which is the skills required to become a data engineer.
Interested in becoming a data engineer? Our Data Science Masters Program is designed to provide you with the skills and knowledge you need to succeed in this exciting field.
Skills Required to Become a Data
The top skills required to become a data engineer are mentioned below:
Programming Language
It should go without saying that mastering a programming language is a must for employment in any sector associated with software development. A solid foundation will teach you how to create procedures, automate operations, including tests, and efficiently debug your code. Python is highly sought-after by businesses, and you stand a strong opportunity of having a rewarding career in this area.
Database Management
Any data architecture must start with a database management system. Building, designing, and maintaining the whole data infrastructure that meets the needs of the organization and the business requirements will be made easier for data engineers if they have a strong foundation in database management.
Cloud Computing
Data engineers are in charge of managing and processing massive volumes of data and are at the forefront of handling raw data for organizations. Data engineers are in charge of managing the availability of this data, which is typically hosted on cloud servers. Apart from the above mentioned technical skills, the field does require a bunch of non-technical skills which are mentioned below:
Teamwork
As an individual's tech competence is tested on how well it works in a team, teamwork is crucial. Even though they are judged on their merit, a person's capacity to collaborate with others is a surefire sign that their tech skills are on the same page. As a result, more original thoughts emerge and flow to enhance productivity.
Critical Thinking
As more firms adopt digital transformation, they are constantly looking for innovations. Therefore, data specialists must develop their critical and strategic thinking skills. They can conduct an unbiased study of company difficulties thanks to this ability. When gathering requirements, it enables them to ask the right questions. Critical thinking will therefore help them get closer to the needed resolution.
Communication Skills
Communication is more than simply face-to-face interaction; it also includes writing eloquently and confidently presenting technical concepts to peers, coworkers, and superiors. Data Science is a jargon-heavy profession, thus it's important to fully comprehend the concept before attempting to communicate it to a non-DS audience.
Conclusion
Working as a data engineer is thrilling. Future developments promise to be quite significant. I advise you to read the resources listed above to develop the necessary abilities to become a skilled data engineer. Without the right direction and understanding, trying to learn something on your own typically takes a lot of time. The secret to your success is a properly framed training program that organizes your schedule, is flexible, uses real-world labs, and lets you learn from an experienced instructor.