In a digital world, where you browse hundreds of websites and web applications, have you ever thought about how these things work technically or who is responsible for this work? Well, the answer to this question is full stack developer.
Full-stack developers are among the few professionals who are very much in demand due to their high skills and high responsible work responsibilities. If you're interested in knowing what is full-stack development and the skills of a full-stack developer, then you're at the right place. Read along the blog, and you'll learn how to become a full stack developer. Let's start the blog with an understanding of what is a full stack developer.
What Is A Full Stack Developer?
Any website or web application has two parts. First is the front-end, where users like you and I interact with the website. The second is the back-end, where data storage and processing takes place. So, a full-stack developer is responsible for building and managing both ends of the website. Due to this reason, full-stack developers are expected to have expertise in all these areas.
People interested in becoming a full stack developer must learn multiple skills of a full stack developer, which we'll see in the later part of the blog. Now, let's see what you need to know before becoming a full-stack developer.
What Do You Need to Know Before Becoming A Full Stack Developer?
Let's see what are some of the requirements and full stack developer job descriptions.
Becoming a full-stack developer requires back-end and front-end knowledge. Effective teamwork will also benefit from a thorough knowledge of collaboration tools and version control systems like Git. Application operation will be made seamless by familiarity with DevOps techniques for deployment, monitoring, and troubleshooting. In summary, becoming a skilled full-stack developer necessitates a blend of technical proficiency, teamwork skills, and a willingness to learn new technologies and approaches.
What Are the Skills Required For A Full Stack Developer?

For you to understand what full-stack developers do, it is important that you know that this field doesn't require one particular degree but multiple sets of skills. Below mentioned are some of the full stack developer skills.
Front-end and back-end programming languages
As we mentioned earlier, these professionals are responsible for managing the front and back end of the website. Both these ends have a different set of programming languages. These languages are Python, Java, PHP, Ruby, HTML, CSS, and more scripting languages.
Designing skills
Full-stack developers are not required to design a website. There are mostly separate work teams of developers and designers. However, basic fundamentals of designing will help these developers understand the client's or brand's requirements. With this basic understanding, developers can make the front-end part of a website or web application appealing and successful.
Familiarity with working on a database
The content or data of websites or web applications is stored in a database. Now, full-stack developers should know all about databases like generating queries, relational databases, and more. Along with this, professionals must know how to work with XML and JSON.
Soft Skills
Full stack developer is totally a technical job, which is true. But, to work in an organization along with multiple team members, you need to have multiple soft skills. Necessary multiple soft skills are time management, curiosity, communication, team management, attention to detail, etc.
Now that we know the different types of web development skills that a professional requires. Let's see what the advantages of becoming a full stack developer are.
Advantages of Becoming A Full-Stack Developer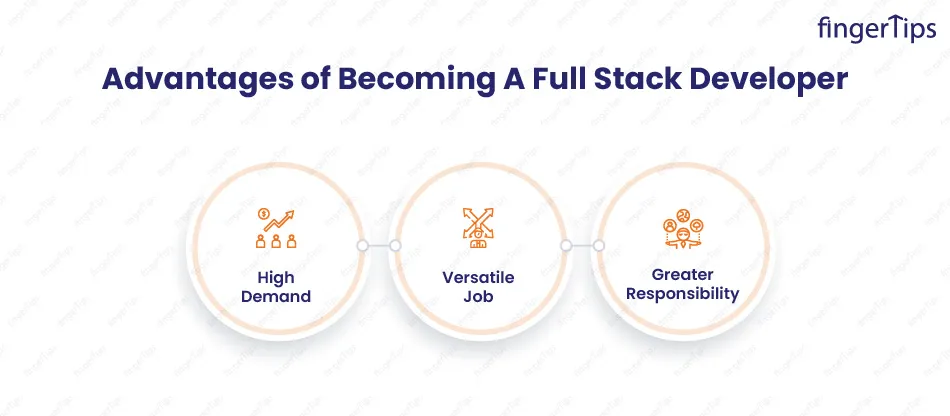 Below are the top five reasons to become a full stack developer.
High Demand
You might already know that high demand for any profession leads to increased salaries and perks for the skilled individual. The same applies to this job. Employers wish to hire developers who are experienced in both the front and back end parts of the website. We'll explore full stack developer jobs and salary options after this topic.
Versatile Job
Full stack development complies with multiple skills and thus has to perform multiple jobs for a project. This will always make you feel energized by your work. With each new project, you'll work on new aspects and learn new skills.
Greater Responsibility
If you're someone who loves their job and likes to be responsible and answerable for your work, this profession is for you. Professionals under this stream are in total control of the client's work. They're the decision-makers and the team leaders for the entire project.
Become A Full Stack Developer with Our Pay After Placement Program Get Complete Details Now
With this, let's see the most crucial aspect you need to know before finalizing a career option. Let's explore full stack developer jobs and salary.
Full Stack Developer Jobs and Salary

Earnings for Full Stack Developers in India vary depending on several variables: experience, region, company size, and skill set. Junior Full Stack Developers can anticipate an annual income of between Rs. 3 and Rs. 6 lakhs on average with 1-3 years of experience. Earnings for mid-level developers with 3–7 years of experience range from 6–12 lakhs per year. Senior Full Stack Developers with more than 7 years of experience and specialized talents may command wages above 12 lakhs and, in rare circumstances, even exceeding 20 lakhs annually.
It's crucial to remember that these numbers are approximations and subject to substantial variation. Because of the concentration of tech businesses and the higher cost of living, metropolitan areas like Bangalore, Mumbai, and Delhi-NCR typically offer higher pay. Greater salaries may not be available in smaller cities.
Full-stack Stack Developers are in high demand in India, where start-ups, established companies, and IT consulting firms are actively seeking their knowledge. Businesses highly value the ability to manage end-to-end development since it increases project flexibility and eliminates the requirement for many specialized specialists.
Based on their expertise and skill set, full stack developers in India can command attractive compensation. They play a crucial role in the technological ecosystem because of the broad range of development tasks that fall under their purview. The need for proficient full-stack developers will probably persist as technology develops, opening up a wide range of professional options in various industries.
Master New Full Stack Developer Skills to Jumpstart Your Career
By utilizing growing abilities, you can advance your full-stack developer career. For dynamic user interfaces, delve deeply into contemporary front-end modules and frameworks like React or Vue.js. Develop your understanding of cloud platforms like AWS or Azure to help you create scalable and secure applications. Explore containerization for easy deployment using tools like Docker and orchestration frameworks like Kubernetes. Develop your skills in API development and integration to create integrated systems. Use DevOps techniques to simplify automation and teamwork. Possessing these cutting-edge talents puts you at the forefront of the Full Stack scene, enhancing your portfolio and advancing your career.
Conclusion
A combination of technical and soft abilities is needed to become a skilled Full Stack Developer. Understanding back-end technologies like Node.js, Python, or PHP and programming languages like HTML, CSS, and JavaScript is essential. It is crucial to have experience with databases, version control, and API integration. Additionally, developing adaptability, problem-solving skills, and excellent communication are essential for working together in varied development teams. It's critical to keep up with changing frameworks and technology. A strong foundation of skills is essential for success in this dynamic sector. A whole Stack Developer's journey entails ongoing learning, practical experience, and the agility to create online solutions.