In this evolving digital era, the field with growing job demand is that of developers. Every organization, startup, or business owner needs an app or a website to showcase their authenticity to the target audience. And, to do so, they need developers to build that.
Now, hiring managers usually prefer to hire developers who can handle front-end and back-end parts of the website/app. Hence, came the buzzword - full stack developers. But, hiring a talent as a full stack developer comes with questions. So, in this blog, we'll be seeing the pros of hiring full stack developers as well as the cons of full stack developers.
This guide will answer all your questions regarding the field. Let's start the blog with an understanding of what is full stack development.
Who Are Full-Stack Developers?
Full stack developers are professionals who are trained to work on the front-end & back-end of the website. These experts are well-versed in multiple programming languages and tools like Python, JavaScript, CSS, HTML, and many more. They can easily complete difficult projects with their proficiency.
Several times, full stack developers have to lead a team of developers who write code and work on the project. While full stack developers have to act as a bridge to connect the entire system and create a complete website. One can become a full stack developers with multiple years of experience and hence an individual has to start his career from the bottom.
You're now very well aware of what is full stack development and what a full stack developer does. Let's continue the guide with the advantages and disadvantages of full stack.
2X Your Career Growth With Full Stack Program-Pay When You Get Hired-Enroll Now
Pros of hiring full-stack developers
Below are some of the pros of hiring full stack developers that any organization will experience.
Cost Effective
The cost of hiring full stack developers for an organization or a project is comparatively less than other options. Full stack developers can perform the work of a front-end developer, a back-end developer, and also a tester. Hiring costs not only in terms of money but also for searching for the right talent are reduced by hiring a full stack developer .
Also, a small business or a startup can consider hiring a remote full stack developer as a freelancer to work on a project. Hiring a freelancer from a country with living expenses cheaper than your country will save you a lot.
Problem Solvers
Problem-solving, more like a soft skill, is what that lacking in most developers. Unlike technical skills, this soft skill cannot be learned from any course. But, the field we're talking about requires problem-solving skills to complete the projects.
And, here enters the importance of hiring a full stack developers. The professionals working as full stack developers have many years of experience and are therefore very well in case of solving an error or problem. So, one of many pros of hiring full stack developers is that project completion without any error becomes easier for an organization.
Possess Multiple Skills
Have you ever heard a hiring manager say the candidate had a wide range of skills and thus we rejected him/her? No, right. Instead, hiring managers are in search of candidates who are proficient in their field will multiple skills in their hands. The same is the case of full stack developers.
With many years of experience in working for the front-end and back-end of the website, these developers are experts in every part of the website and every layer of app/website development. These skills often help full stack developers to add unique features to a website and apps.
Flexibility
One more attribute that comes with years of experience in full stack developers is flexibility in the work. They're capable of working on any type of project across any industry and most likely provide positive outcomes. Along with new projects, the developers can work on old, or half-completed projects and even can update the current software and systems. This is beneficial to the organizations as any other developers are not capable enough to handle or work on old projects.
These were some of the pros of hiring a full stack developer. Now, let's see the cons of full stack developers.
Cons Of Full Stack Developers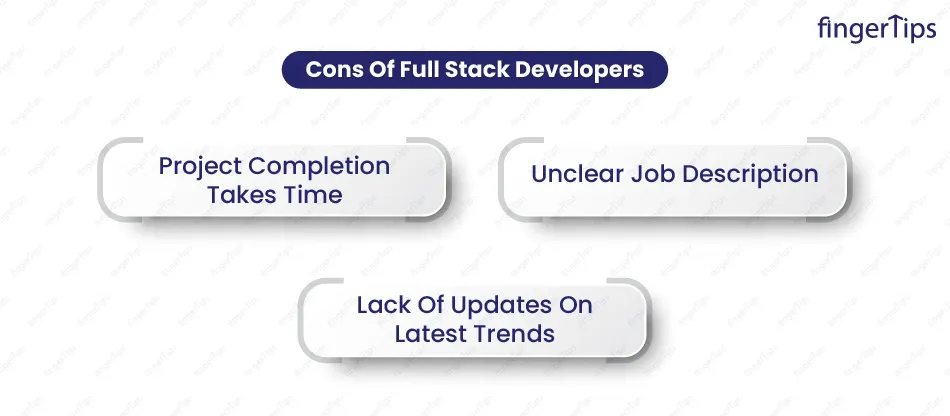 Project Completion Takes Time
As mentioned earlier in the guide, full stack developers are the ones that'll be working on both the ends of a website or an app. This results in time time-consuming process to complete a project. Even though they're well-trained for the job and have good experience, the work of two developers can't be completed by one in the same time period.
Now, large organizations can troubleshoot this con by hiring a team of developers that works under full stack developers, but small businesses or startups are not able to do so. So, these small organizations need to plan beforehand and provide projects far earlier to full-stack developers to get projects completed in time.
Unclear Job Description
Now, full stack developers are considered to be a one-man army, the experts who will manage whole organizations' work related to tack and programming on their own. This is not actually true. Due to wide skill sets and experience, the job description of full stack developers is very unclear which can cause disagreements at a later stage.
Therefore, it is advised that organizations lay down the work profile, roles, and responsibilities of the full stack developers in detail and ask the candidate to go through it before joining the position.
Lack Of Updates On Latest Trends
The technical field is evolving day by day. Numerous trends are being going on and multiple new things being introduced in programming, tech tools, etc. And, the professionals working in these fields are expected to be updated with these trends and knowledge for organizations' benefits as well as for their personal knowledge.
But, it is often problematic for full stack developers to stay updated with the IT field since they've expertise in multiple fields and programming languages. This lack of knowledge might be a con for an organization as it'll lead to them not being updated according to the market requirements.
These are some of the cons of full stack developers. However, as you can see these cons can be solved by both big and small organizations by planning and taking essential actions. To clear out the confusion in your mind, let's see when to hire a professional from this field.
When To Hire Full Stack Developers?
There are certain situations where hiring professionals as full stack developers can be beneficial for an organization. For example, when a business is looking for a technical expert to lead the team. At this time, hiring a full stack developer can be the best option as with all their experience and knowledge, can lead the team with efficiency. Also, in case a project is more complex than usual, a full stack developer hiring can save the day. Since they're skilled in multiple programming languages, they'll be able to solve problems coming in the way of the project.
Also, any young company or startup with time and money resources in hand can consider hiring a full-time full stack developer. The reason is, that the company is in the initial stage and strong technical knowledge can help in building creative, and good architecture of the company's website.
These are only certain situations where hiring a full stack developer can be a smart move. Now after covering the advantages and disadvantages of full stack developers, it's time to end this guide with a conclusion.
Parting Words
In the end, we can say full stack developers are professionals with experience and skills in managing and working with multiple programming languages and tools, and thus, can be an asset for an organization or a startup. But, hiring individual front-end developers and back-end developers can be opt for certain situations.
The hiring of a candidate in this field, thus, depends upon the project requirements. Therefore, it is recommended to see the scope of the project in the long term and make the hiring decision accordingly.