How many times in your day do we recommend our favorite products to family and friends, sharing the product link and encouraging them to try it out? Now imagine yourself doing this professionally and earning a commission when someone makes the purchase. Interesting, right? This is what the concept of affiliate marketing is all about. Welcome to the blog, where we'll see affiliate marketing meaning and how to start affiliate marketing easily. Read along as we cover each element from the beginning.
What is Affiliate Marketing?
Affiliate marketing is the subset of a wide domain- digital marketing where brands pay commissions to people encouraging the audience to buy their products/services. The payment is mostly in terms of commission that one gets after successfully making other people purchase the product.
Popular E-commerce platform - Amazon made the trend of affiliate marketing so popular. It started with bloggers putting links to products in between the blogs and whenever an individual purchased from that link, commission was generated for a blogger. This type of marketing is helpful for new brands as they easily collaborate with influencers who have the same target audience and increase their reach widely.
Let's proceed further and see how to start affiliate marketing for beginners.
How to Start Affiliate Marketing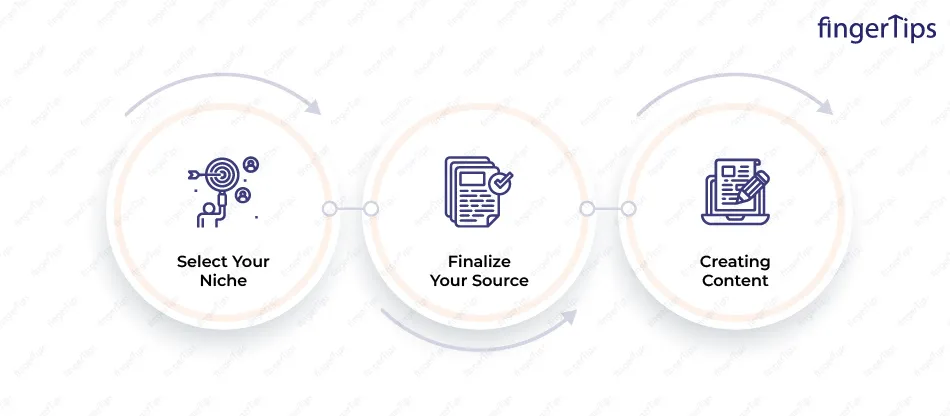 The journey of starting a process to become an affiliate marketer can seem difficult at first, but, let's break down the whole process into multiple steps to answer your question - how to do affiliate marketing.
Select your niche
Niche is the category in which you'll recommend the products. It can be anything from food products, skincare products, kids' toys, and so on. To define your niche all you need to ask yourself is what interests you most, the field you know most about, and so on. Make sure to check for competition in a niche and perform a basic analysis of the market.
Finalize your source
You can perform affiliate marketing on any of the popular platforms like Pinterest, YouTube, Instagram, and other social media apps. You can easily market the products and reach a wide number of people to convince them to use these specific products.
Creating Content
Based on your niche and your interest you've selected the platform, now it's time to create valuable, engaging content, that is equally convincing. Built your audience on these platforms, earn their trust, and start with your affiliate marketing easily. Along with uploading content, one other way to build trust is to engage with your audience.
Build Digital Skills To Become A Digital Marketer-Enquire Now
Now, we would recommend you take the first steps and the rest of things can be figured out on the journey. With this, let's see how the system of affiliate marketing works.
How Does Affiliate Marketing Work
The process of affiliate marketing is pretty straightforward. It starts with an individual starting with an affiliate program and generating a link. You can use this link and add it to your content to promote the products. Professionals majorly utilize these links on websites, social media platforms, and in between blogs.
Now, when anyone from your audience clicks on an affiliate link, they'll be directed to the product. Now, if he/she purchases the product, the pre-decided commission will be added to your amount.
As you now have a basic idea of how affiliate marketing works, let's see what are different types of affiliate marketing.
Types of Affiliate Marketing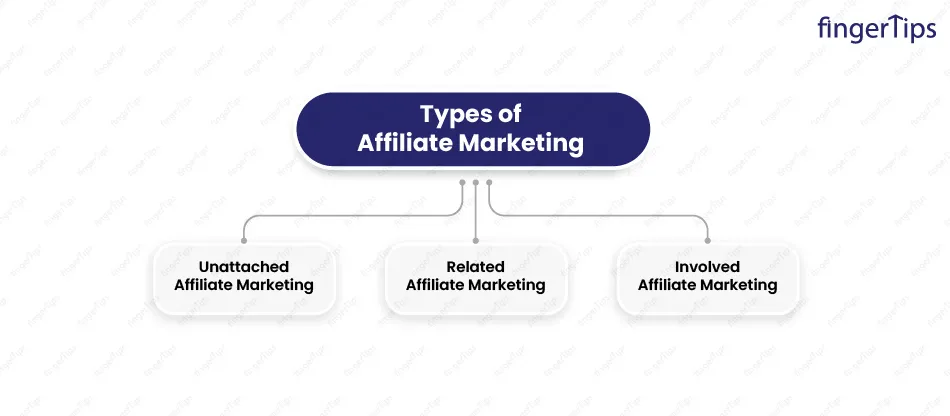 The three types of affiliate marketing are mentioned below:
Unattached Affiliate Marketing
In this type, there's no experience, expertise, or authority needed to promote the link of the product. All marketers do is run ads on Google in front of an audience in the hope, they'll purchase from the link.
This type of marketing is preferred because there's no need to create content and build a community. All you've to do is run ads for the right audience.
Related Affiliate Marketing
This is the opposite of unattached marketing. Here, it's required to build a community either on social media platforms, or blogs. Here, the content and product links are from the same niche. So, when new or old audiences will visit your content, they'll be interested to know more about your products.
This type of lead is called quality leads as they're interested in your product recommendations.
Involved Affiliate Marketing
The reality is, that every time you're recommending a product, your audience believes that you've used the product personally and are thus recommending it. This is what is known as involved affiliate marketing. Here, you're recommending the products that you use in your life.
This type of affiliate marketing is beneficial in the long term where the community you've built over the years will be strong and reliable.
With this, let's move on and look into the benefits of affiliate marketing.
Why Should You Start Affiliate Marketing

Getting started in affiliate marketing is an exciting and rewarding career option. Let's see why you should start in the same.
No Major Investment Needed
You're not required to create a product or provide a service to earn. In affiliate marketing, you're required to recommend products. The little investment you'll need in the journey is to either build a website, promote your content and media, etc.
Easy To Begin
Honestly, there's no need to get a formal degree or education to begin your career as an affiliate marketer. All you need is basic knowledge of the field which you can get by getting enrolled in a simple course. So, the field is practically easy to begin with when compared to other domains.
Cater A Need
When you build a community in a particular niche, as an expert you get to know the gap in the market. You also understand the needs and demands of the market. Analyzing this, one can easily recommend the products that solve the audience's problem. Such calculated recommendations will not only help your audience but will also help you in getting more conversions.
There Are Numerous Product
If you're thinking that the field has limited opportunity or no opportunity for growth. Well, let us tell you the pool of products in the market that go unnoticed due to lack of marketing. You can make it more popular by recommending it and earning through it.
Now before ending this guide, let's quickly see some of the things you should avoid as an affiliate marketer.
Mistakes to Avoid as an Affiliate Marketer

Though entering the field is indeed easy you've to make efforts to stay profitable in the market. Let's see the mistakes you should avoid in terms of affiliate marketing jobs. 
Recommending wrong products
This type of marketing works on trust and once that is broken, you won't be able to convert many leads. So, as a marketer, it is your responsibility to recommend good quality products that are good for your audience.
Concentrating only on selling
This situation will only build an average community. To start, focus on building a community, and upload valuable content that resonated with your audience. Monetizing your blog or social media too early will do no good to you or your platform.
Focus on creating evergreen content
What you create now can reach to certain audience after six months. Instead of creating bulk content, you as an affiliate marketer must focus on creating content that is evergreen and valuable after a certain period.
Keep SEO practices in mind
SEO is an helpful element that'll aid you in reaching the right audience. If you have a website, consider digging into on-page SEO. If you've social media content, go for off-page SEO and learn more about the platform's algorithms to reach more. The biggest myth of the affiliate marketing field is that people think there's no effort required to earn. Instead, the truth is that you've to keep putting in effort to grow your income.
Conclusion
In this guide, we discussed the major elements of affiliate marketing. By considering major strategies, and focusing on your target audience, you can reach new heights in the field of affiliate marketing. Make sure you keep informed about new, emerging trends in your niche. This way, you'll be able to grab the opportunity at the right time.
FAQs
Let's answer some FAQs to answer all your doubts.
Q1. How to select the right product to promote?
Once you've decided on your niche, it'll get easier for you to find the relevant products. Pay attention to your audience's needs, and what they're looking for. Now, search for products in marketing that solve their product and recommend the best product for them.
Q2. Which is the best platform to build a community for affiliate marketing?
Selecting the best platform depends upon the niche and your expertise. Well, you can select from multiple options like websites, social media platforms, blogs, etc.
Q3. How can we measure the progress as affiliate marketers?
Apart from seeing the commission amount earned, multiple other metrics that you can use are CTR(click-through rates), conversion rate, etc.
Q4. What to keep in mind as an affiliate marketer?
If you want to earn from this field in the long term, make sure you focus on recommending quality products instead of spamming the links to some random low-quality products. Focus on transparency and authenticity in the long run.