Without a doubt, Data Science is one of the most in-demand careers for the coming years. You might have already read or heard this a thousand times. Do you know why it is so hyped? Because it is true. According to the research performed by IBM, the demand for data scientists in India will increase by 28% that too by the year 2023. And these numbers are expected to grow speedily in the coming few years. So, if you're interested in the field and want to know about who is a data scientist, what is data scientist analyst, how to become one, and more, you're at the right place. This blog will be the only guide you'll ever need to begin your successful career in the domain. So, without making you wait any further, let's start with the basics.
Who Is A Data Scientist? What Does A Data Scientist Do?
With each passing second, there are tons of data being generated. Even when you're going on a walk while listening to music, or scrolling social media, data is produced. And, in this digital era, data is considered gold. Companies or brands that know how to make use of these data to reach their target audience are the kings in the market. This is what data science is all about. Data science is collecting the data produced, converting and working on it, and finally extracting insights from these that'll help to make informed decisions in the organization. Due to this reason, there is a huge demand for skilled data scientists in the market. Companies are looking for professionals who know how to work with the data and help them to scale in the market. If you're slightly inclined towards selecting this domain as your career, our next part of the blog will be of utmost help. Explore how to become a data scientist in the below-mentioned steps.
Becoming A Data Scientist
By now, you're most likely very much keen to know about becoming a data scientist. To be honest, there are tons of resources available on the internet and by consuming those, one might get confused about what step to take. Therefore, we've come up with the perfect guide that'll help you to know how to become a data scientist analyst. Let's see those steps.
Step1: Practice Programming Languages
If you've got a bachelor's degree in some technical field, you might already know the theoretical concepts of programming languages. But, data science is a practical job and you're required to know the working of basic programming languages like Python & R.
Step2: Learn Relevant Skills
It is true that any person can learn data science and can become a data scientist if he/she puts effort into learning the right skills. There are various technical skills required for the job field like machine learning, programming languages, and coding. We've covered these skills in the next topic of this blog.
Step3: Attend Online Courses
Now that you've invested your time in researching the field and learning about the domain, it is time to invest in monetary terms. You can select the best online course for data science and learn this in-demand skill. Select multiple skills like Data Science And AI or Data Science and BI.
Step4: Internship Or Entry-Level Jobs
If you're still not ready to work a full-time job or are still studying, you can consider applying to interships, Interships are a great way to learn the complete working of any domain. On the other hand, you can also start by applying for entry-level jobs to start your journey as a data scientist.
These steps will be pretty much all you need to follow to begin your career. Let's talk about the necessary skills required in the domain.
Data Scientist Requirements
To become a well-certified professional data scientist, one requires adequate qualifications and skills. As data science is fully a technical field, various skills required by individuals are technical. Let's start to know what are the data scientist requirements:
Educational Qualification
Let's see the basic educational qualification required for becoming a data scientist. It is a compulsion to have a minimum of a bachelor's degree for any individual to pursue this field. However, if you're someone with a bachelor's degree in stats, maths, computer science, IT, etc, it'll be very beneficial to you. Once you cross the limitation of the minimum education qualification requirement, you can focus on other needs which are skills. Let's see what are the necessary technical and non-technical skills.
Programming Language
It is important that as a beginner you have sound knowledge of basic programming languages. These programming languages are required by data scientists to perform their daily tasks. The first two languages you can start with are Python and R. These two programming languages are used by the majority of professional data scientists. The languages are known to be very versatile, perfect for beginners, and very easy to learn.
Machine Learning & Artificial Intelligence
Machine Learning is the concept that tries to train machines to imitate the human brain. While artificial intelligence is the capability of machines and computers to think and make their own decisions. These two concepts are developed to make the work of data scientists easier and let them focus on more important tasks.
Data Wrangling
The data received by data scientists are not always ready to work with. There are various faults present in the data. Data scientists should know how to fill up the gaps in the data which is called data wrangling. It basically involves organizing the data, mapping out the data, cleaning the data, and much more.
Cloud Computing
If you've researched about data science before you might have heard that cloud computing and data science goes hand in hand. There's a reason behind it, data scientists are required to make use of cloud computing platforms so that they can work with a huge pool of data. If you're wondering about what are the various job roles in data science or what does a data scientist do in different roles, the next part will answer your questions.
What Are The Various Job Roles In Data Science?
Data science is a huge field and you'll find multiple job roles that revolve around the domain. It would be quite difficult to mention all of these job roles here, but the below-mentioned are the top and most in-demand job roles in the field of data science.
Data Scientist
The first in a line of various data science roles has to be a data scientist. While data scientists share many of the same duties as analysts, they are also in charge of creating machine learning models and utilizing algorithms to make precise predictions based on gathered data, ultimately making the jobs of data analysts a little bit simpler. Data scientists are trained at working with raw data, analyzing it, and engagingly disseminating findings.
Business Analyst
Business analysts carry out market research and analysis with a focus on the company's product line and overall profitability. They pinpoint issues with business operations and have chances to improve organizational procedures, methods, and systems. They offer technological answers and insights based on Big Data that can aid in achieving corporate objectives.
Data Engineer
To fit the use cases specified by the architect, data engineers construct the infrastructure, arrange tables, as well as set up the data. The ETL process, which stands for Extract, Transform, and Load, is also handled by them. To do this, data must be retrieved, processed into a usable format, and then sent to the company's database. Simply put, they properly stream data into tables.
Machine Learning Engineer
ML engineers are the important members of a data scientist team who are responsible to train and develop AI models and creating algorithms that can take independent decisions. Designing machine learning systems falls under the responsibility of this position, which includes analyzing and organizing data, conducting tests and experiments, and generally overseeing and enhancing machine learning procedures to produce high-performing machine learning systems.
Business Intelligence Analyst
Similar to a data analyst function at most businesses, a business intelligence analyst identifies patterns and value in their company's data. Data analysis, working with SQL, and expertise in modeling and data visualization are all skills possessed by BI analysts. Utilizing querying techniques, they gather and extract data from warehouses, analyze it, and produce summaries of the company's current financial standings.
These were some of the important and most in-demand roles in the field of data science. While, like many others, you might also have confusion regarding the difference between data scientists and data engineers. So now, we'll be comparing data scientists with data engineers.
Comparing Data Scientists With Data Engineers
Without a doubt, it is clear that data scientists and data engineers are from the same domain and teams. But, their job roles and their skills differ from one another. Let's see the difference between the two profiles.
Basic Job Role
A data scientist is an expert who uses their knowledge of statistics and developing algorithms for machine learning to make forecasts and provide crucial business insights.
The technologies that enable data scientists and analysts to carry out their work are created and optimized by data engineers.
Skills Required
Based on what does a data scientist do, the skills required for the field are data mining, ML, AI, decision-making skills, etc. While, data engineers require skills like programming knowledge, reporting, data visualization, etc.
Job Responsibilities
If you want to know what is work of data scientists is, in short, we've to say they are required to build models and algorithms, perform strategic planning, and communicate between shareholders and customers. While job responsibilities of a data engineer involve understanding models, developing and testing the algorithms, framing the necessary pipelines, and more. So now you know the difference between the two job positions - data scientists and data engineers based on their job responsibilities and skills required. Let's see our last topic, which is the tools required in the field of data science.
What Are The Various Tools That A Data Scientist Uses?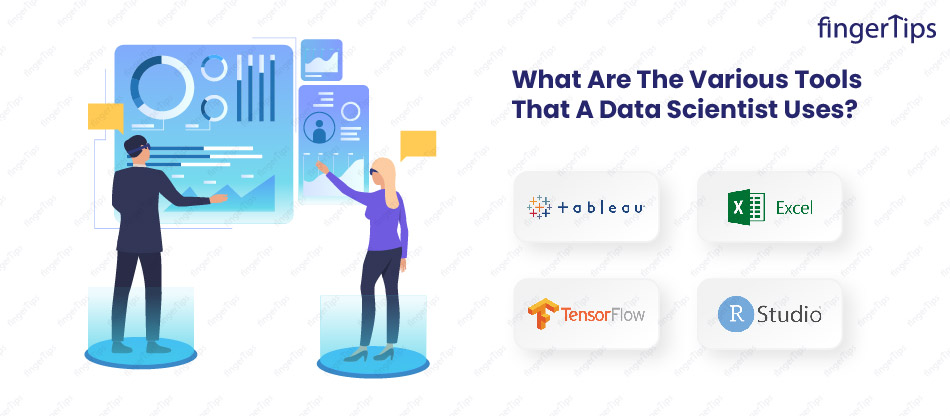 As mentioned earlier, data scientists are required to work with data where they're required to transform the raw data into actionable insights. This action requires a certain set of tools that makes the work of data scientists much easier. So, let's see what are the various tools that a data scientist uses.
Tableau
Tableau is a potent data visualization tool with one of the fastest-growing markets in the business intelligence sector. Professionals at any levels of an organization can understand the data thanks to Tableau. Additionally, it enables non-technical users to design unique dashboards. Tableau offers cross-database join functionality, which enables you to create calculated fields and join tables, aiding in the resolution of challenging data-driven issues.
Excel
Spreadsheets remain fashionable. Electronic spreadsheets have been used since 1979, and they undoubtedly continue to be one of the most often used tools for reviewing and modifying data. Excel's abundance of functions and tools that can be used to neat, aggregate, pivot, and display information is one of the reasons it is so well-liked.
TensorFlow
A well-liked deep learning and machine learning framework is TensorFlow. It is a free and open-source library that can be used to train and use deep neural networks for a variety of tasks, including video detection, word embedding, handwritten digital categorization, picture recognition, and many more.
R Studio
R is another programming language that is excellent for statistical calculation, even if Python is the most well-liked programming language for data science, and a lot of data scientists utilize it for data analysis. While RStudio Server runs on a remote server and enables access to RStudio using a web browser, RStudio Desktop is a standard desktop application. These were a few of the tools used by data scientists in their everyday work. With this, we've arrived at the end of this blog. Let's continue to wrap this up.
Enroll in Fingertips Data Science course today and become a highly sought-after professional in the rapidly growing field of data science.

Conclusion
Data Science is a vast field with various good job opportunities. There are tons of free resources available on the internet that can help you clear some of the basics. But, if you want to build a successful career in the domain, we'll suggest taking the best online courses to get ahead of others. We hope this guide was helpful to you and gave you some meaningful insights. Thank you for reading. Happy Learning.