Digital Marketing - a phrase that you probably hear multiple times a day. And, the reason is very simple, in the last ten years, there's been a huge shift from traditional mediums to digital mediums. The consuming habits of people are already changed. Let's take a simple example, most people used to read newspapers, but now, some news apps and websites provide the same information, this doesn't imply people don't read the newspaper, but now there are other options available for the same. Now, to cater to the generation or audience that is consuming digital content, there's a need for digital marketing. You might wonder if you know what is digital marketing and what it is for. But here's a catch, most of you probably don't know the objectives of digital marketing.
In the blog, we'll cover the most important digital marketing goals and objectives. Let's start the blog with little basics.
What is Digital Marketing?
Digital marketing, which includes almost all online advertising for your e-commerce company, is advertising a brand, goods, and/or service via paid and organic internet campaigns.
Everyone uses digital marketing since the internet is a vast, virtual space, from online commerce giants like Amazon to small local businesses that use websites to promote their goods, this justifies the reason digital marketing is such a broad and expanding industry.
Digital marketing is not just another trend or concept. Now, if you try to explore digital marketing provides huge benefits to businesses, let's see some of them.
The first benefit in the list has to be the greater geographical reach. Unlike traditional marketing methods. Digital marketing ads and campaigns have no geographical boundaries, this helps in the easy growth of the business.
Now, don't be surprised when I tell you that the cost of applying digital marketing methods is way lower than the traditional options. The brand can create one valuable ad copy and run that across the world to get a lead.
The third benefit of digital marketing is real-time insights. Digital marketing tools and techniques have analytics that easily provides valuable insights on a real-time basis.
Last but not least, a brand can select from multiple types of digital marketing available, like content marketing, SEO, video marketing, PPC, and many more, according to their convenience.
So, these are some of the benefits of digital marketing. With the basics getting clearer, let's begin our main topic and see what are the objectives of digital marketing.
Fuel your career with our Digital marketing course with job guarantee – your gateway to success with a Job Guarantee!
Digital Marketing Objectives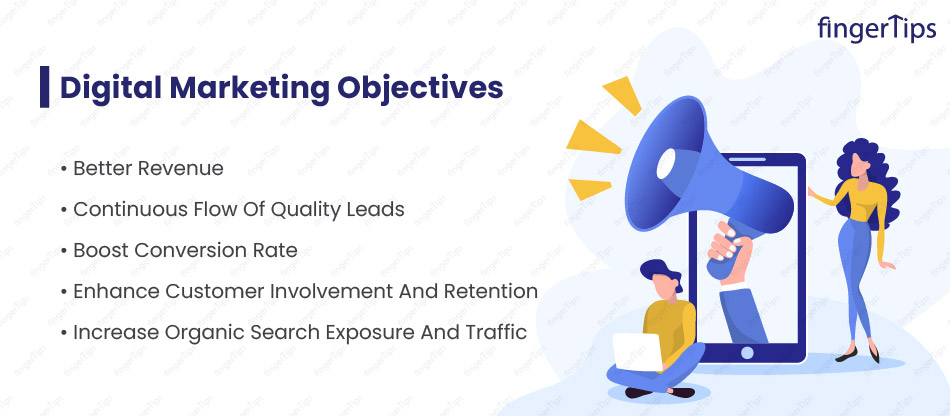 Let us tell you, there is no particular set of digital marketing goals and objectives. Every business or brand uses digital marketing according to their business needs. Well, there is certain common digital marketing objective that the majority of brands use. Let's see those objectives for digital marketing.
Better Revenue
For any business, the primary goal of implementing any marketing strategy would be to see an increase in revenue. And digital marketing comes with various ways to help the brand in increasing revenue. Digital marketing components like PPC and SEO will help your business and consumers to meet. Also, other components, like SMM and content marketing, will help you to build a positive online presence.
Continuous Flow of Quality Leads
Whether your business is on an online platform, offline, or even both, you will always wish to get good quality leads interested in your product or service. Digital marketing helps businesses reach a wider audience with a limited budget, depending on the digital marketing medium you use.
Boost Conversion Rate
This target focuses on improving a website's conversion rate, which is the proportion of website visitors that complete a desired action, like completing a purchase, completing a form, or signing up for a newsletter. Improved web design and accessibility, compelling call-to-action buttons, and A/B testing to determine and carry out the best approaches are some strategies that may be used to accomplish this goal.
Enhance Customer Involvement And Retention
This goal concerns forging close bonds with current clients, raising engagement, and promoting repeat business. Personalized email advertising, community management on social media platforms, loyalty programs, exclusive deals and discounts for current clients, and top-notch customer service are some strategies. Businesses may boost customer loyalty, repeat business, and recommendations by regularly engaging with and delivering value to customers.
Get Started In Your Dream Career Digital Marketing Course - Enquire Now
Increase Organic Search Exposure and Traffic
This goal is to increase the website's exposure in organic search results and increase the amount of traffic from search engines. Implementing efficient search engine optimization (SEO) techniques, carrying out keyword research to optimize website content, mobile friendliness, producing high-quality and accessible content, and obtaining backlinks from trustworthy websites are some strategies to accomplish this goal. Businesses may generate more focused traffic and lessen their reliance on paid advertising channels by improving their organic search visibility. Apart from these, there are several smart objectives for digital marketing depending upon the business and its nature. Let's move onto this blog's last topic, the challenges faced in digital marketing.
Challenges In Digital Marketing
Despite the field being so much in demand and despite multiple digital marketing objectives, the field faces many challenges. These challenges but of course comes with solution, but let's see what the challenges are in digital marketing in the market.
Growing Competition: As more companies and marketers compete for online attention, the digital world becomes more congested. The increased competition makes it difficult to stand out and attract the target audience's attention. Businesses must build distinctive value propositions and interesting content and adopt focused advertising and marketing tactics to meet this challenge.
Adapting to Algorithm Changes: Search engines and social media platforms that are used for the concept of digital marketing regularly adjust their algorithms, which can have a big impact on the effectiveness of organic reach, visibility, and advertising. To retain the best success, marketers must stay current on these algorithm updates and modify their strategy as necessary.
Ad Block and Advertising Fatigue: Many internet users use ad-blocking software or disregard commercials altogether, making it difficult to reach and engage the target audience. Additionally, when consumers are bombarded with too many advertisements across numerous digital media, they may develop ad fatigue. Marketers should develop engaging, valuable, and non-intrusive advertising experiences that connect with the target audience to overcome these difficulties.
Skill Gap: The rapidly changing character of digital marketing necessitates that marketers have a variety of skill sets and stay up to date with emerging trends and technologies. There is a shortage of qualified specialists in several facets of digital marketing, like data analysis, SEO, content development, and marketing automation. To upskill their personnel, businesses must either invest in training and development programs or partner with firms or independent contractors with specialized knowledge.
These were some of the challenges in the field of digital marketing. Let's process towards the end of the blog by concluding the guide.
Conclusion
To sum up, digital marketing objectives are essential for directing enterprises and people toward their targeted outcomes in the digital sphere. By establishing defined objectives, businesses can integrate their online advertising plans and initiatives with their overarching advertising and company goals. Digital marketing goals might change depending on each company's particular requirements and priorities. Increasing brand recognition, generating leads, increasing website traffic, increasing online sales, strengthening customer engagement.