The growing demand for data scientists might have you wondering about the field. Well, with more companies realizing the benefits data understanding give them, the more they're looking for skilled professionals. But, before investing your valuable time and money in any profession, several questions arise in your mind. Questions like what is data scientist, what are data scientist jobs, and most important is data science a good career or not, can come to your mind. This is a detailed blog that'll help you to understand the complete working of data science field along with the most important about data scientist salary.
Let's start the blog with the basic question who is a data scientist and what is their role?
Who Is A Data Scientist And What Is Their Role?
If Simply said, it is the process of extracting knowledge from data using a combination of statistical analysis, machine learning, computer science techniques, and domain knowledge. Data scientists can better predict future conditions by using the results of this method. Data extraction, analysis, visualization, and interpretation are all aspects of data science. Data Scientists must be good at both analytical thinking as well as problem-solving skill, and they must be capable of explaining and communicating their points, and findings to the stakeholders irrespective if they're from the technical domain or not.
Now, to answer your most asked question on what is data scientist job, well, the work of data science is very broad. But, to explain, here are the three main steps defining the work of data scientists. To make sure that the data is correct, full, and logical, data scientists invest a lot of time in cleaning and preparing. Data scientists analyze the data using a variety of machine learning and statistical approaches after it has been cleaned and pre-processed. Data that is complicated must be communicated by data scientists in a way that is both clear and understandable.
Now that you know what is data scientist, let's know about data scientist qualifications, which basically involve the skills required to become a data scientist.
Skills Required To Become A Data Scientist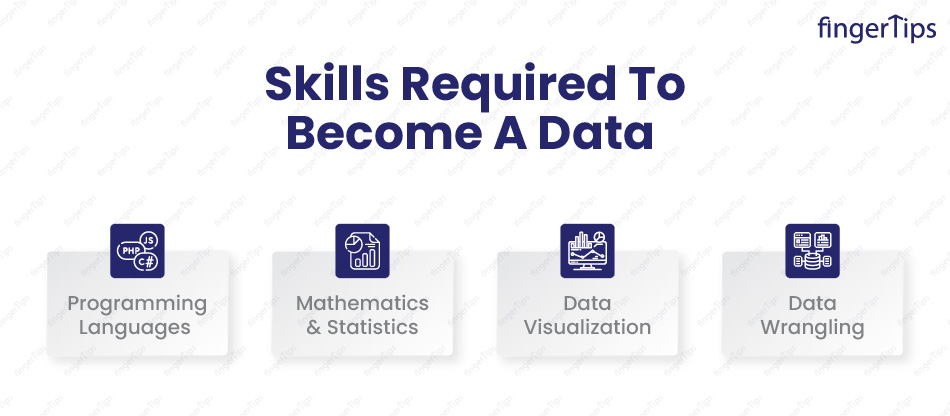 If you're aware of the work and domain of data science, you might know that it is a technical field. So along with the basic non-technical skills, there are a bunch of technical skills you must know to grab data science job opportunities. Let's see a few important ones.
Programming Languages
The first in the list of data scientist qualifications, without a doubt, is a programming language. The knowledge of programming language is a must for data scientists to work with data either to collect, organize, analyze, evaluate it, etc. Even if you're new to the field, make sure to get an idea of basic programming languages like R & Python.
Mathematics & Statistics
For this field, it is important to have a sound knowledge of math and statistics. You, as a data scientist, would be required to apply various concepts of both fields to solve the data problems. Some of these concepts are linear algebra, regression, geometry, probability, and more.
Data Visualization
Not all your team members would be from a technical field. Also, the stakeholders won't have much knowledge, and, therefore, they won't be able to make sense of your complicated work. To explain your findings and insights to them, you must know the skill of data visualization.
Data Wrangling
The data that is collected or that is transferred to you is not always clean and organized. Data might have missing values, it can have duplicate numbers or repeated data. All this is needed to be cleaned and organized which is known as data wrangling. Data wrangling, without a doubt, is among one of the most relevant skills required to become a data scientist. These were a few of the important skills required for the field. Now, without any further ado let's move on to the most interesting part which is salary insights. We'll begin with seeing data scientist salary deciding factors.
Data Scientist Salary Deciding Factors
There are numerous deciding factors in the field of data science. The factors can be internal as well as external. Internal factors like skills, tools, experience, and external factors like industry, demand, location, etc. Let's see each of them quickly.
Education & Skill Level
As mentioned before, there are various technical and non-technical skills required for the field. So, if an individual knows most of the important skills, he/she is likely to get a higher salary. On the other hand, individuals who had done bachelor's or master's in the technical domain will get a salary that is higher than others.
Experience
This factor doesn't only affect the data science domain. In fact, in any job role experience professionals tend to get a higher salary as compared to the freshers.
Location
This being one of the external factors, highly changes the salary insights. Country-wise, data scientists that are working in the company outside India have higher packages as compared to here. In India too, companies in certain locations like Bangalore, Pune, and Mumbai, have a higher demand for professionals along with higher pay.
Industry
This might be surprising to you, but, the nature of industry is also a deciding factor for a salary range. Technology-related data scientists typically earn more money than those who work in other businesses. On the other hand, data scientists in the healthcare sector are paid less than their colleagues in other sectors due to less workload. These were some of the data scientist salaries deciding factors. Now, for someone interested to make a career in data science, the next part will excite you. Let's see what is data scientist salary in India.
Data Scientist Salary In India
The pay for data scientists in India varies greatly depending on several variables. Nevertheless, the average pay for data scientists is Rs 6Lakh Rs. A fresher data scientist with less than one year of experience or who is a fresher might expect to make approximately Rs 500,000 per year. Data scientists at the entry-level with 1 to 4 years of experience make about 610,811 per year. The salary of more experienced data scientists will then depend on his/her skills, tools, practical approach, etc.
Let's also explore data scientist salaries in other countries.
Data Scientist Salary In Other Countries
An entry-level data scientist can expect to make around 95,000 USD annually. This amounts to almost Rs 70 lakh annually. An intermediate Data Scientist may expect to make between USD 130,000 and USD 195,000 on average abroad. As mentioned earlier in the guide, the salaries of data scientists outside India are higher. But so are the workload and skills required.
Now with all these salary insights, an individual might need more reasons to pursue a career. Let's what are the key reasons to become a data scientist.
Key Reasons to Become A Data Scientist
Let's see the top reasons why this might be the best career option for you:

High Demand
As you already know, businesses are dependent on data insights to make the most important decisions. Now, data scientists with knowledge of programming language, math, stats, and of course evaluation skills are the right choice for these businesses.
Good Salary Insights
You might have noticed in the salary insights section of the guide, that the salary offerings of the field are much higher than certain other career fields. Also, due to high demand and lack of skilled professionals, the salary is on the higher side. Just by learning the right skill you can grab good opportunities without the fear of competition.
Flexible Work Conditions
The field of data science provides the flexibility of remote work options. You can select the location like any state, or city, you want to reside in along with working with any company that can be in any country of the world.
Better Growth Opportunities
Unlike other fields, where the growth of a professional is stagnant, the data science field offers faster growth opportunities. With the right skill, the right talent, and the right knowledge you can climb the growth ladder much faster. With this being said, let's move on to the next and last topic of this guide which is challenges in the data science career.
Challenges In The Data Science Career
Professionals have a lot of potential in the subject of data science, but it also has its share of difficulties. The following are some typical difficulties that data scientists may run against in their careers:
Data sets that are insufficient, inconsistent, or erroneous are frequently encountered by data scientists. And due to this, this might be a challenge for data scientists to draw reliable inferences from the data, and preprocessing and cleaning the data might take a lot of time. The skill of data wrangling is used for this problem. Data sets can be highly complicated and challenging to comprehend. To create models that can anticipate the future and offer new information, data scientists must be able to spot trends and trends in the data.
Data scientists must be able to explain complicated data & information in such a way that non-technical stakeholders can grasp. Strong organization and communication abilities are needed for this. These challenges are surely solvable with the right experience and the right skill. With this guide, we're sure you now know that is possible to learn data science without any prior technical knowledge. Let's now wrap up this article.
Do you have a strong analytical mindset and a thirst for uncovering valuable insights? If so, it's time to embark on a thrilling career as a data scientist.

Conclusion
In the blog, we've tried to include all the important topics like is data science a good career, what is data scientist job, and how to be a data scientist. Now, with all this information, it is up to you whether or not you're interested in a data science field. If you're, then you can consider learning multiple skills –Data Science & AI or Data Science & BI.
Stay tuned for more such detailed blogs.