Content: The heart of the digital world. Everything we do on our screen from day to night is considered content. Whether you're scrolling social media, watching movies on Netflix or Amazon, or browsing for clothes on E-commerce apps or websites, all is content. Content marketing is a crucial element of digital marketing for organizations. In the blog, we'll be seeing every detail of this concept starting with the importance of content marketing.
Why Content Marketing Matters?

Content marketing is a strategy for businesses to be aware, attract, engage, and retain the target audience by sharing and marketing different forms of content across multiple mediums. Let's see why content marketing matters for any business or organization:
Builds trust and authority: The core aim of content marketing is to build relationships with the target audience, communicate with them, and build trust. The more your content audience sees, the more they'll feel connected with your brand.
Helps in generating leads: What do you think the audience will do when they get to know about your product/service? They'll be inclined to know more about your brand. And, once they're interested, there are high chances of them getting converted into leads and prospects.
Less cost more ROI: Content marketing costs much less than traditional means of marketing but when done right, they can provide you better and greater ROI.
These are a few of the points that show the benefits of content marketing. Now, let's get to know more about content creation in digital marketing.
Content Guidelines: Why Your Brand Needs a Style Guide
As a business owner or even as a marketer, you'll be not the only person who will create content. A content style guide will help you to maintain a fixed standard and proper consistency for your brand's content.
A style guide will make sure that content across all the platforms of your brand has the same brand tone to build a sense of familiarity in the audience's mind. Next, the style guide also has guidelines on designing aspects like colors, and fonts, to be used. The same elements in the design will make sure that the audience recognizes your brand easily. All in all, a style guide is a dynamic and essential document, that also evolves with brand and industry standards.
How Content Marketing Has Evolved
Content marketing has undergone some significant changes. Earlier, keywords and other elements were given importance to improve SEO ranking. But, now more than search engines, users are given importance. Content is created and distributed in such a way that the ultimate user feels valued and related.
The reason behind such a change is the introduction of social media. Content on social media has to be more relatable, shareable, and interactive. Therefore, brands have now started leveraging the content of storytelling to capture user's attention.
The next big change is personalization. The growing usage of artificial intelligence in the customization of content is allowing marketers to make users feel more connected. Lastly, unlike before, authenticity is capturing the user's attention. The audience doesn't want something made-up, instead, real-life examples and scenarios attract them more.  
Content With Purpose: How to Set Goals for Every Content Piece You Create
No marketer should be trapped to create content and publish it for the sake of doing it or because every other brand is doing it. Each piece of content that you upload should align with a short or even long-term goal of the brand. These goals can be anything like getting more traffic, increasing brand awareness, more engagement, etc. Marketers can easily identify the purpose of content from below four categories below:
To get a higher rank on SERP: Now, you might want this to increase visibility or to generate more traffic. Irrespective of the reason, this clarified purpose will help you in deciding your strategies like on-page SEO, off-page SEO, etc.
Make more people aware: Now, as a new brand, your purpose at the moment can be to make more people aware of your brand, products, or services.
To get more engagement on social media: Well, in the digital era, you can't ignore the power of social media apps. The brand can have the goal to get more visible on the internet to make their audience feel more connected.
Lastly, to create linkable content: If your business has been on the roll for quite a time, it's time to create linkable content that users can use to consume one after the other content. This helps the brand to convince consumers to consume content created by them.
The core aim behind identifying the purpose of content is simple - to frame future strategies. Let's see the types of content marketing for you.
Types Of Content Marketing You Can Use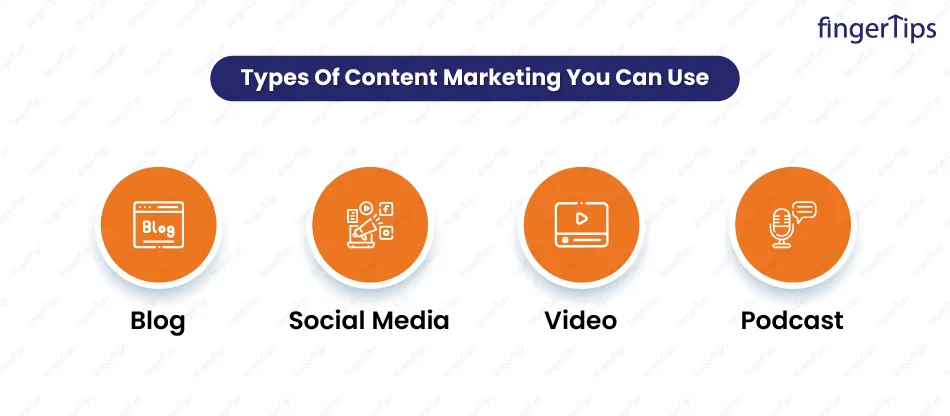 For a brand, it is important to utilize different types of content styles to capture a wide audience in different ways. Let's see some of the popular types that you can use.
Blogs: A brand can use blogs to educate the audience about the field they work in and can even smartly include CTA for their product. Remember, blogs are mainly for educational purposes and quality comes over quantity under this umbrella.
Social Media: Content that goes on social media must be highly interactive and engaging. Here, quantity matters as much as quality of content.
Video: To truly capture the audience's attention, opt for video marketing. Generate and publish thought-provoking videos that create an impact on the audience's mind.
Podcast: The trend of podcasts vanished in thin air, and suddenly took re-birth out of nowhere. Well, rest assured, this time podcast is here to stay with people who are inclined to learn more every day.
These are some of the valuable forms of content that audiences prefer to consume and thus a digital marketer should focus on these.
Don't let anything hold you back-Learn digital marketing from our pay-after-placement program-And build a lucrative career
Case Studies: How Content Marketing Benefits Companies
If you search this query on Google, you'll get infinite examples of brands leveraging content marketing. Let's see a couple of brands that successfully implemented content marketing strategies.
Zomato, a food delivery brand, known for its wittyness, leverage the medium of social medium and creates content that draws attention Zomato, shares relatable and funny content related to food that makes it highly shareable and hence increases brand awareness.
Another iconic brand example is Amul. The brand uses its mascot to comment on every trending event happening in the world, which not only catches users' attention by is also loved by the audience. In a world, where content is everywhere you as a digital marketer have to be unique in creating and sharing content as a part of your content marketing strategy.
Best Content Marketing Tools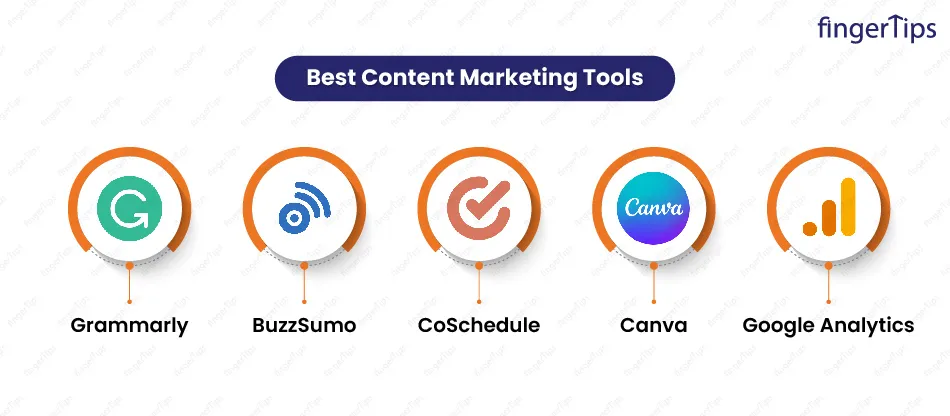 Content marketing is not an easy short-term process, instead, it involves planning, analysis, creating, and sharing, content which takes up lots of time for professionals. Let's see what are some of the tools that you can use to ease up your work.
Grammarly: The quality of the content is crucial, and Grammarly is an essential tool for guaranteeing correct grammar and clarity. It assists writers in identifying spelling and grammar errors and makes suggestions for corrections to improve the content's general readability and professionalism.
BuzzSumo: You may uncover the most popular material on social media sites with BuzzSumo, a content discovery engine. It enables you to generate content that resonates with your audience and follows current trends by identifying trending subjects and popular material.
CoSchedule: For capturing attention, creating captivating headlines is essential. With the help of CoSchedule's Headline Analyzer, you can build attention-grabbing and shareable headlines by evaluating them based on elements like word balance, length, and sentiment.
Canva: In content marketing, Canva says that visual material is essential. Canva is an easy-to-use graphic design tool that enables anyone, not just designers, to produce eye-catching graphics, infographics, and other visual content to support written content.
Google Analytics: Knowing how well your material is performing will help you improve your strategy. Deeper insights into website traffic, user behavior, and content performance are provided by Google Analytics. It enables you to make data-driven decisions, uncover popular content, and monitor the progress of your content marketing initiatives.
In conclusion, these tools cover a range of topics related to content marketing, including distribution, creation, and analysis.
Places You Should Be Sharing Your Content
Sharing your material across a variety of platforms is vital to maximizing its impact and reach. Make sure that the content on your website or blog serves as a useful resource for visitors before moving on. Utilise social media sites like Facebook, Twitter, LinkedIn, and Instagram while adjusting your strategy to the distinct audiences and content formats of each. The visibility of your material can be greatly improved by using interesting images on platforms like Instagram or insightful professional articles on LinkedIn.
Use email newsletters to stay in touch with your audience directly. To keep subscribers informed and interested, share material highlights, updates, and insider information frequently. Platforms for distributing content, like Medium or LinkedIn Articles, provide additional ways to connect with larger audiences outside of your website.
All in all, there are multiple platforms that a marketer should cover while building a content marketing strategy. To improve your content strategy and maximize upcoming sharing efforts, keep an eye on statistics on each network to learn what resonates most with your audience.
How to Integrate Content Marketing & SEO
For a solid digital strategy, content marketing and SEO must be combined. Start by conducting keyword research to find pertinent terms that members of your audience are looking for. Ensure that these targeted phrases are naturally incorporated into your articles, blog posts, and other materials by coordinating these keywords with the content development process.
Include your goal keywords in on-page elements like title tags, meta descriptions, and headers. This improves click-through rates from search engine results pages and aids in search engines comprehending your content.
To show search engines that your information is relevant, update and renew it frequently. Analyse statistics to discover how well your material is performing, pinpoint problem areas, and optimize your strategy. The interaction of content marketing and SEO not only improves visibility but also positions your brand as a trustworthy knowledge provider in your sector.
How to Create an Editorial Calendar for Content Marketing in 5 Easy Steps
To maintain a constant and well-organized approach, creating a successful editorial calendar for content marketing requires strategic planning. The following five simple steps will help you:
Step1: Set Specific Goals:
Outline your content marketing goals in detail. Understanding your goals will help to design your content calendar, whether those goals are to engage your audience, increase brand awareness, or increase website traffic.
Step2: Recognize Your Audience
Determine who your target market is and what they like. Address their demands and interests in your material. Take into account the platforms they utilize and the kinds of content that appeal to them.
Step 3: Brainstorm content ideas to create a list of ideas that are in line with your objectives and target audience. Infographics, videos, blog articles, and other content are examples of this. To accommodate varying audience preferences, make sure there is diversity in the content kinds.
Step 4: Establish a posting schedule by your content strategy. A weekly, biweekly, or monthly frequency is possible. Search engine optimization and audience engagement depend heavily on consistency.
Step 5: Use Tools: Make use of editorial calendar tools like CoSchedule, Trello, or even a straightforward spreadsheet. Assign duties, establish due dates, and monitor development. Posts across numerous platforms can be scheduled with the aid of automation technologies.
This is how one can easily prepare a calendar in five steps. With this, our comprehensive guide on content marketing comes to an end. Let's proceed to conclude the blog.
Conclusion
The key is with effective content marketing, businesses can reach the right audience at the right time. There are multiple platforms where a brand can show up and engage with the audience. The only element to keep in mind is to decide the platform and type of content your brand resonates with and stick to it. Rest, content can be figured out in brainstorming sessions and the ongoing journey. We hope the guide helps you as a marketer or your business to frame an adequate content marketing strategy.