Microsoft created the business intelligence and data visualization application known as Power BI. It assists in transforming unprocessed data into engaging dashboards, reports, and visualizations that users may utilize to get insightful information and make data-driven decisions. Easy data integration, real-time analysis, an intuitive user interface, strong analytics capabilities, cloud accessibility, and seamless connection with other Microsoft programs are just a few of its advantages.
Why You Should Use Power BI?
Real-time analysis: Power BI enables automated data refresh and real-time data streaming, ensuring that your reports and dashboards always show the most recent data. Faster decisions may be made based on the most recent information, thanks to this real-time analysis.
Simple to Use: Users of various skill levels can generate data visualizations and reports using Power BI thanks to its intuitive user interface. It is accessible to a wide range of users because of its drag-and-drop features.
Cost-effective: Power BI is a reasonable option for people and organizations of all kinds thanks to its flexible price options, which include a free edition with few capabilities.
Strong analytics: Power BI's Data Analysis Expressions (DAX) language enables you to model data and execute complex computations. It enables intricate data scenarios, allowing you to gain insightful knowledge from your data.
Overall, Power BI's data visualization features, usability, data connectivity, and cloud-based approach make it an effective tool for maximizing the value of your data and forging wise business decisions.
Responsibility and Duties of Power BI Professionals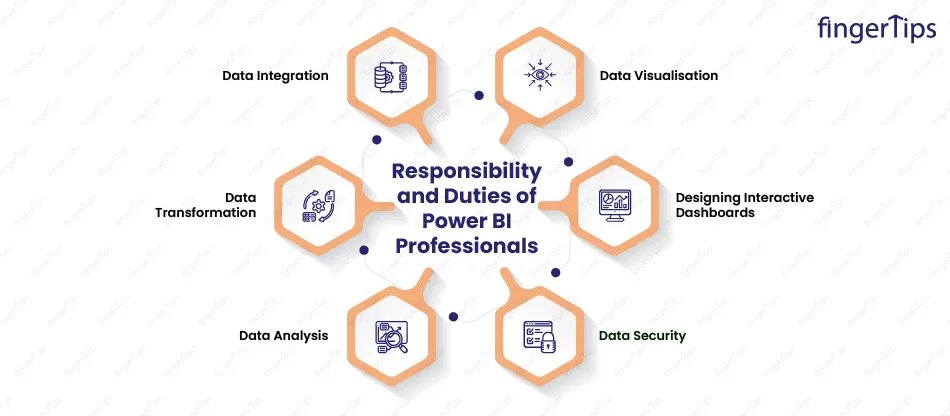 Microsoft's Power BI is a potent business intelligence and data visualization solution that enables organizations to turn unstructured data into insightful reports. Its roles and responsibilities cover a wide range of data management, analysis, and presentation issues, assisting decision-makers in making wise decisions.
Data Integration: One of Power BI's main duties is to combine data from many sources, including databases, cloud services, spreadsheets, and other software. Users can get a single version of the truth by connecting to these sources and combining the data into a single data model. All stakeholders' decisions will be based on accurate and current information thanks to this data integration.
Data transformation: Power BI users can sanitize and convert unprocessed data into a more useful shape. It offers numerous tools for manipulating data, including filters, sorting, combining, and the ability to add computed columns or measurements. This phase of preparing the data is essential for analyzing the data and producing insightful visualizations.
Data analysis is Power BI's main responsibility when working with integrated and converted data. Users can extract insights from the data using a variety of mathematical, statistical, and analytical tools. Users can find patterns, trends, and outliers in the data thanks to the complicated calculations and aggregation it enables.
Data Visualization: Power BI's primary responsibility is to provide engaging data visualizations. There are many other visualization methods available, such as bar charts, pie charts, line graphs, maps, and more. Users find it simpler to understand complex data and successfully express findings thanks to these visualizations.
Designing Interactive Dashboards with Power BI Users can create interactive dashboards that combine various visualizations on a single screen. Dashboards provide a high-level overview of the performance of the organization and its important KPIs, making it simple for executives and managers to monitor the advancement of corporate objectives.
Data Security: Power BI takes data security very seriously in its capacity as a responsible data analysis tool. To keep sensitive data safe from unauthorized access, it provides a variety of security features, including role-based access control, row-level protection, and data encryption.
Now that you're very aware of Power BI. Let's see what are the important skills required to become a Power BI developer.
Skills to Become a Power BI Professional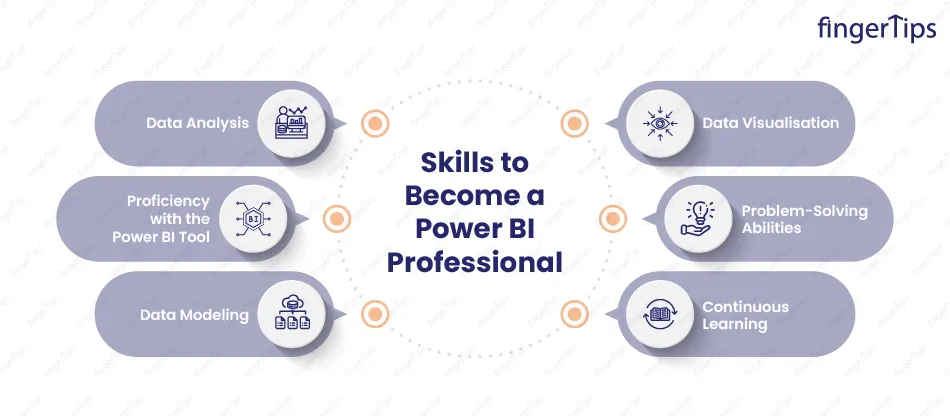 Technical and analytical abilities are needed to become a skilled Power BI specialist. The following are the main abilities you must master to succeed in the industry:
Data Analysis: You need to have a solid foundation in data analysis to be a Power BI specialist. Effective visualizations and reports require an understanding of data architecture, data linkages, and the capacity to extract relevant insights from data.
Proficiency with the Power BI Tool: You must possess a thorough knowledge of the Power BI tool, including all of its features, functions, and components. Learn how to use DAX for computations, Power Query for data manipulation, and Power BI's visualization features.
Data modeling: Get the hang of it using Power BI. Designing effective and organized data models is necessary to enable precise and perceptive analysis. Understanding relationships, measurements, and calculated columns is crucial for creating efficient data models.
Data Visualization: Data visualization plays a crucial role in Power BI. It is essential to develop the skill of choosing the right graphs, charts, and other visual elements to effectively convey data and insights. Familiarity with data visualization best practices is vital in creating engaging and easily understandable reports.
Problem-Solving Abilities: Dealing with complicated issues is a common part of data analysis. To identify problems, find solutions, and improve Power BI solutions for effectiveness and performance, develop strong problem-solving abilities.
Continuous Learning: Data analysis and visualization are fields that are always changing. By taking advantage of online classes, tutorials, and professional development opportunities, keep up with the most recent Power BI features and improvements while also developing your abilities.
By developing these abilities, you may position yourself as a skilled Power BI expert who can provide insightful data-driven analysis and make a substantial contribution to an organization's decision-making procedures.
Salary Range
Depending on criteria including experience, geography, talents, and the size of the organization, the salary range for Power BI specialists in India can change.
Freshmen and Entry-Level: The annual wage range for freshmen or professionals with less than a year of experience could be in the range of INR 3 to 6 lakhs.
Mid-Level Professionals: With between two and five years of experience, Power BI specialists can expect to earn between INR 6 and 8 lakhs annually.
Managerial Role: Depending on their abilities and contributions, professionals with five or more years of experience and proficiency in Power BI may fetch salaries between INR 8 and 12 lakhs annually or even more.
As organizations increasingly recognize the benefits of data-driven decision-making, the demand for Power BI specialists has been continuously rising in India. To attract and keep qualified Power BI specialists across a variety of industries, including IT, banking, healthcare, e-commerce, and more, competitive salaries are offered.
Future Scope of Power BI
The potential of Power BI's future uses is encouraging, and it is anticipated that this trend will continue as more people seek out data analytics and business intelligence solutions.
Integration of AI and ML developments: Power BI is always developing to keep up with AI and ML developments. The usability of the product is increased overall by integrating AI and ML capabilities, which enable enhanced analytics, predictive insights, and automated data processing.
Scalability and Cloud Adoption: As cloud computing gains popularity, Power BI's cloud-based features provide scalable and affordable solutions for companies of all sizes. Many organizations prefer cloud-based analytics because it offers accessibility and flexibility.
Rising Demand for Self-Service BI: Power BI's self-service features enable non-technical users to perform data analysis and report creation without requiring a lot of IT support. As organizations work to decentralize data analysis and promote data-driven insights at all levels, this trend is anticipated to continue.
Powered by Microsoft: Microsoft's ongoing development is advantageous to Power BI because it is a Microsoft product. Microsoft's dedication to its BI platform guarantees that it will continue to be competitive and relevant in the fast-moving business intelligence industry.
Power BI's future potential looks bright as companies increasingly recognize the value of data analytics and visualization in their decision-making. Power BI's usefulness and demand are projected to increase as technology develops, and data-driven practices become more common.
Don't let finances hold you back – join now Data science Pay after placement and pave your way to a successful data science career

Conclusion
Developers and experts in Power BI have a wide range of duties, from data modeling and integration to visualization, performance optimization, and support. Their proficiency with Power BI enables businesses to take advantage of data-driven insights, facilitating improved decision-making and eventually enhancing the overall success of the enterprise. Power BI developers significantly contribute to promoting innovation and transformation inside organizations by remaining up-to-date on market trends and constantly developing their abilities.