Before considering any career field and finalizing, multiple factors affect your decision. And, two of the biggest factors are salary and growth in the field. Honestly, selecting a field is a long-term plan and, any professional or individual will definitely go through these factors before making the final decision. Now, if you've been indecisive about growing your skills and entering the field of web development, you're at the very right place. Web development is a very lucrative career field for the ages to come.
And, the job profile of a full-stack developer is gaining lots of attention in the field of web development. This blog is the perfect and only guide you'll need to understand what is the role of this position and what the salary range looks like. In the end, we have a step-by-step guide on becoming a full stack developer, to make your career path easier. Let's start with understanding the role of a full stack developer.
The Role of a Full Stack Developer
Full stack developers are responsible for managing the back-end and front-end parts of the website/app. This comes with the requirement of huge skill sets and lots of responsibilities in the hands. Here's what comes under the role of a full stack developer:
The skill and capability to work with back-end programming languages, front-end programming languages, tools, databases, and third-party software.
Manage and lead the team of development by continuously keeping an eye on project progress. Collaborate with the project head and team to keep them updated on the progress.
Keep an eye on trends and stay updated with the recent updates in programming languages or servers.
Ability to create innovative, creative websites that are visually appealing to the target audience of the organizations.
Come up with suggestions, and advice for the team to improve the ongoing project.
Make sure the software/app or website you're working on is supported by all the operating systems, like IOS, Windows, Linux, etc.
One needs to note that, full stack developers are considered to be the multi-taskers in the work of web development. Hence, the responsibility and role of the profile depend upon the organization's requirements. However, these are some of the areas that every full stack developer is responsible for.
To become a full stack developer, one needs to learn about multiple skills and programming languages. It is advised to take the best pay after placement full stack developer course, to excel in the field with the help of the best trainers and professionals. Now that you're aware of the role of a full stack developer, let's see what the growth curse of a full stack developer career looks like.
Career Growth Outlook for Full Stack Developers
In this digital era, big brands or even small businesses have to maintain an adequate online presence. An integral part of online presence includes websites and apps. Due to these reasons, the scope of full stack developers is high. Businesses with limited budgets in their hands are always in search of professionals who can perform multiple responsibilities. Thus, many startups are more inclined towards hiring a full stack developer who can manage the back-end and front-end of the website.
Multiple years of experience and knowledge of so many programming languages and tools act as a cherry on the top of this profile. full stack developers can work independently and manage the completion of projects on a timely basis, which is a cost-effective option for organizations.
Due to all these advancements in the job profile, the demand for full stack developers has increased by 35% every passing year since the start of 2015 - Source: LinkedIn. So, those worrying about the growth of the field in the profile, need not worry as this is definitely among one of the booming fields.
Now it's time to explore full stack developer salary, which is one of the most important and deciding factors in selecting a career field.
Full Stack Developer Salary

As many professionals and even freshers already know, the salary range of any professional differs on different factors. Below mentioned are three factors and how much they change the salary range of a full stack developer:
Salary based on location
Different job locations have different salary ranges for the same job profile, because of differences in the cost of living of the location. For example, the average salary in places like Hyderabad, Bangalore, and Pune is around 7 Lakh per year. Whereas, places like Kolkata, and Ahmedabad, offer around 5.5 lakh per year for the same position of full stack developer.
Organizations are also hiring remote and freelance full stack developers with no or low salary difference.
Salary on Skills
As the full stack developer needs to have multiple skills and years of experience, the salary range also differs based on this factor. Developers who have better knowledge of important programming languages like JavaScript, Python, React.js, etc. are known to get better pay due to their ability to perform more tasks in an organization.
Based on Experience
The biggest factor for a salary range, not only for full stack developers but for every field is experience. A fresher full stack developer can get around 3.75 Lakhs per year. A professional with 2-4 years of experience is expected to earn around 5.5 Lakhs per year. Lastly, employees of more experience of 5-9 years of experience can get an average of 12-14 Lakhs per year.
This was about the full stack developer salary range. Now, let's make your journey of becoming a full stack developer easier.
The Path Toward Becoming a Full Stack Developer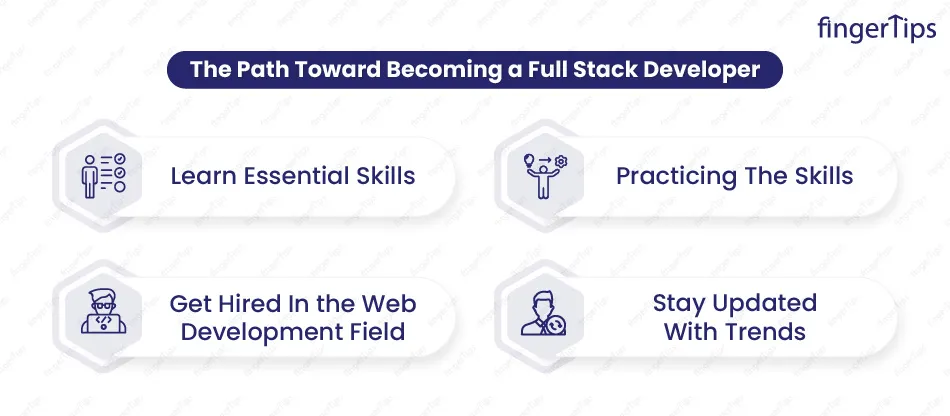 Below mentioned is a step-by-step guide on how you can become a full stack developer along with a few resources that can help you become one.
Learn Essential Skills
Full stack developers are all-rounders in the field of web development. They are capable of handling all the tasks related to a website or an app. Thus, you need to learn the essential programming languages of both front-end and back-end development. Some of these languages are HTML, CSS, Python, JavaScript, SQL, and more.
Now, you can learn these skills from various sources. If you've not graduated, consider getting a degree in computer engineering, science, or IT, as these courses involve all these essential programming languages. You can also attend free online courses, boot camps, and webinars, to gain knowledge from experts.
Practicing The Skills
Gaining theoretical knowledge of the above-mentioned skills is not enough. One must know how to write a programming command practically too. Do multiple projects and practice the skills. Build our portfolio, volunteer under some professionals, or take small freelancing gigs to practice programming. Building a portfolio with good sample work is essential to getting an entry-level job at the next step.
Get Hired In the Web Development Field
Becoming a straight full stack developer without any practice in the field is impossible. One is required to climb the ladder to gain that amount of knowledge and become an expert. If you're in college, consider getting an internship in the field. And, if you're a fresher with all the necessary skills, try getting a job in an entry-level position. At first, you'll be required to manage only the front-end part of the website. Slowly and gradually, with an increase in experience and knowledge, you can scale up your level of responsibility.
Stay Updated With Trends
Your work doesn't end after getting an entry-level job. Even after becoming a full stack developer, you'll be required to keep an eye on the market trends. Since, you know multiple programming languages like Python, SQL, Java, HTML, etc., it is important to know what's new about or in these languages. Keeping up with the trends of this dynamic field is an important part of the job for any web developer.
The process and steps of becoming a full stack developer are not easy. One can feel overwhelmed due to so much information available on the net. You can consider enrolling yourself in a full stack developer program that will help you train better.
Become A Skilled Full Stack Developer In 6 Months-PAP Program-Enroll Now
Conclusion
If you're someone with an interest in coding and programming languages and also likes to read and dig into the technical field, becoming a full stack developer is a great career option. With a great pay range and excellent growth opportunities, this is a lucrative career option. In the end, we hope you got to know everything you wanted by reading this guide. Happy Learning!