Email marketing is one of the oldest elements of digital marketing that uses the form of email to connect with the target audience to increase brand awareness, and promote businesses' products and services. As this is the oldest form of digital marketing, many brands believe that Email marketing is dead and no longer provides benefits. But, the reality is different. Marketers who perform email marketing in the right way enjoy high ROI on these marketing efforts.
What is Email Marketing?
Email marketing is a process of curating especially targeted messages with a consistent aim and sending them to a group of audiences via mail. This type of marketing helps the brand to directly reach the audience in their inbox.
Email marketing works well on already existing consumers to let them know about things going on about the brand. Suppose the brand is coming up with a new product or service, they can easily increase awareness about the same via emails. Let's continue to learn more about this strategy by seeing the benefits of email marketing. 
Importance of Email Marketing
Unlike social media marketing, email marketing provides more personalized reach to the target audience that provides a long-term effect on the audience's mind. Let's see why email marketing is important for the businesses.
One of the first advantages is that it provides the option of fostering consumers with personalized messages. Brands can easily tailor the content of messages according to the target audience of the emails.
Second, email marketing provides an option to measure results with multiple metrics. Some of the metrics are open rates of emails, click-through rates, conversation rates, etc. By measuring the results, marketers can analyze the campaign performance and make necessary changes.
Lastly, with multiple emails via newsletters, promotions, and updates of business, marketers help in enhancing the effectiveness.
Types of Email Campaigns
It's time to see what are types of email marketing campaigns. Different email marketing messages and categories are considered as types of emails. Let's see some popular email marketing types:
Welcome mails
Imagine you got a new subscriber to your email newsletter. You can't just send random emails to him/her. What is required to be done is to introduce yourself, what you do, who you are, etc. Welcome emails are a series of emails that helps new subscriber understand how you can help them through emails.
Seasonal campaigns
These are the series of mail crafted by brands when a particular season arrives. For example, travel companies send mail during holiday times, and chocolate brands during Diwali festivals or Raksha Bandhan. When a brand knows a season can benefit its sales, it tries to send emails around it in large quantities.
The after-shopping mails
These campaigns are rare to be seen but are most effective. Suppose someone purchased an appliance from a brand, what the brand can do is send follow-up mail giving information about the product. This will not only educate the consumer but also create brand loyalty.
Transactional mails
These emails are sent by the brands after a consumer takes a specific action. For example, if a consumer signed up for something, transactional mail will come regarding thank you for signing and confirming the mail ID. Or, E-commerce websites generally send order confirmation mail when a customer places the order from an app or website.
Other types of email marketing campaigns are re-engagement emails, brand story emails, promotional emails, etc.
What is A/B testing?
A marketer might wonder if other elements of digital marketing are easily trackable. But, how can one track the results of email marketing? One of the important metrics and email marketing strategies that help in improving the game of email marketing is A/B testing. In simple words, A/B testing is sending one variation of content as a mail to a group and another variation to another group of subscribers list, to understand which variation works better.
Learn Digital Marketing Skills To Get Your Dream Job-Digital Marketing Pay After Placement Program-Enroll Now
For starters, brands perform A/B testing by sending different subject lines to two different groups. And, to take it to an advanced level, brands send different templates of mail to two groups for comparison purposes. There are multiple email marketing tools available that help to perform A/B testing easily. One just needs to fill in the details, and results will be shown to you along with analysis in a certain time.
How to Grow an Email Subscriber List?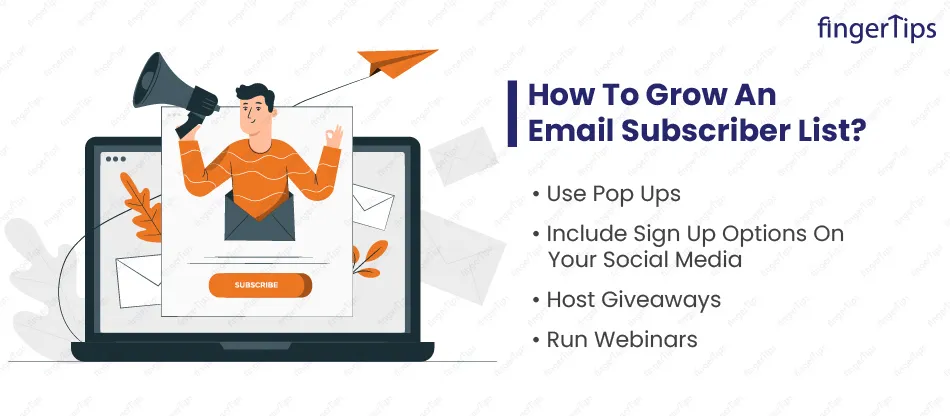 All this testing and using of tools can only be done if you have an adequate amount of subscribers in your list. Getting subscribers for emails are most difficult and you as a brand have to show them why they should manually sign up for your list. With this, we'll now see email marketing tips to grow the subscriber list.
Use pop-ups
Include an option of showing pop-ups whenever a consumer visits your website. The consumer will not sign up through these pop-ups if the message written on the banner is intriguing enough. Markers can go for an emotional touch in the message to make them stay.
Include sign-up options on your social media
If you've decent numbers on your social media platforms, feel free to use these places to gain email marketing subscribers by promoting your emails. Add a CTA that'll push them to sign up.
Host giveaways
Giveaways are always a great way for a brand to get new followers, and audience, create brand awareness, and to get people sign up for email lists. Announce that the random winner will be selected from the email list and people will be more than
People are curious to learn new things from professionals. You can invite professionals from your industry to organize webinars and promote them on social media channels. People will be more than happy to attend it and gain great insights. This way you'll ask people to register themselves with their email IDs.
Depending on the type of brand it is, there can be multiple ways to grow and nurture the email list. Let's see how segmentation works in email lists.
How To Segment Email List For High Open and Click-Through-Rate?
If you want high open rates and high CTR, you must segment your emails. This segmentation can be done based on demographics, preferences, behavior, etc. One can start the process by first identifying the list of active subscribers.
Pay After Getting Hired With Digital Marketing PAP Program Book Your Seat Now
Now, from this list, alter the content according to each segment. Frame messages using data like age, occupation, etc. Next, one can also perform A/B testing on these active subscribers to understand what is working better for the brand. You can also improve your rates by removing inactive subscribers from your list. Lastly, don't forget to analyze the performance on a timely basis to grow your ROI on email marketing.
How To Automate Email Marketing With An Auto Responder?
Setting up pre-scheduled, targeted emails that are sent out in response to particular user behaviors is how you automate email marketing using an autoresponder. AI and automation are changing the way we work, the tools are making our daily tasks much easier.
Select a trustworthy autoresponder tool first. Create a series of emails with user behavior, like sign-ups or transactions, as the basis. Make your list more focused by segmenting it. Create a detailed procedure that specifies the triggers and time windows for each automated email. Create intriguing subject lines and content to keep readers interested. Analyse analytics to calculate performance and modify plans as necessary. Maintain a smooth and efficient email marketing automation process by regularly updating and improving automated sequences to reflect changing client preferences and behaviors.
Email Marketing Tools
Multiple email marketing tools help marketers to ease some work. Some of the essential tools that you must try are:
Sender
The sender tool helps the marketer to send engaging email templates without any need to use HTML. It has a variety of templates from which one can easily elect and can also make changes into it.
Sendinblue
Sendinblue provides an all-in-one solution by combining SMS marketing and email marketing. It stands out for being reasonably priced, having automation capabilities, and having transactional email functionalities. A built-in CRM is also available for managing customer interactions.
Constant Contact
Another well-liked option is Constant Contact, which is famous for its ease of use and email marketing capabilities. It is perfect for novices because it has a large collection of resources available. Social media integration and event management are also supported by the platform.
Mailchimp
Mailchimp is the most popular email marketing tool that is assumed to be used by the majority of marketers. The free version of the tools provides the feature of creating and scheduling emails. The tool is known for its smart feature of providing recommendations that'll help to optimize marketing efforts.
These are some of the popular tools of email marketing, not to mention there are 100s of other tools available with free and premium versions. With this, we've covered all of the elements of email marketing in the guide. Let's proceed toward a conclusion.
Conclusion
Email marketing, without a doubt, is one of the most effective elements of digital marketing. In the guide, we discussed the details of email marketing. From types of campaigns to email marketing tips to grow the subscriber list. We hope the guide was insightful for you and as a marketer, you'll be able to implement the tips in your strategy.