Many of us are interested in the field of digital marketing. This interest grows after knowing the unlimited benefits of the field, like good salary, high skills, new work, flexible jobs, in-demand careers, and much more. But, what many individuals forget is an important aspect which is skills for digital marketing. This is true; this field requires various digital marketing key skills. And therefore, it is important to learn or at least get a vague idea of the skills required for marketing before entering the field. This blog will be your guide on digital marketing requirements; let's begin it.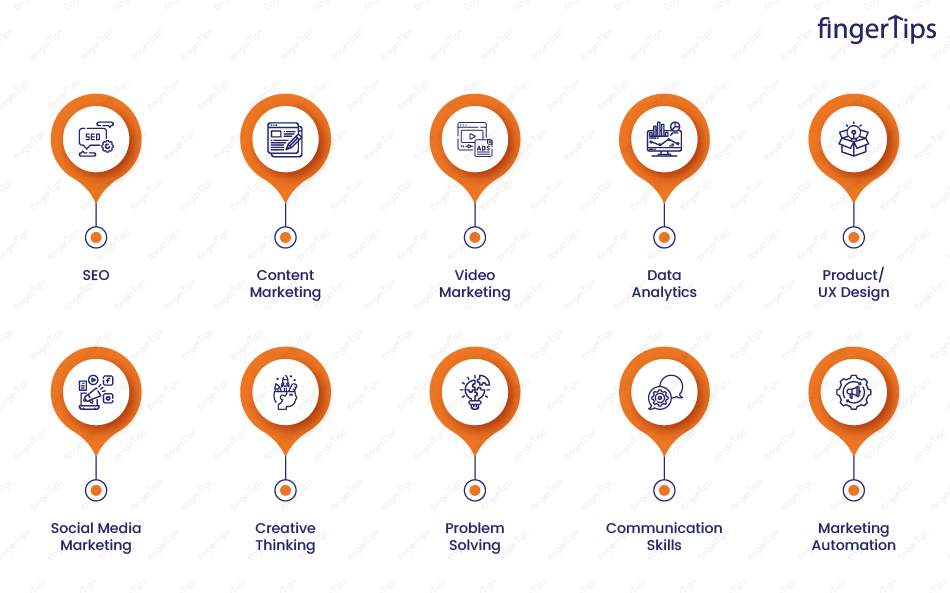 SEO
SEO which stands for search engine optimization, is the process of increasing your website traffic through organic ways. For instance, you started a food business, and you started creating blogs and content to get higher sales. But what if your content is not reaching the right audience? What if your content is getting a lower rank on the search engine page?
This is when SEO can come to use for your business. You can use different types of SEO to optimize your content for the website and make it rank higher on different search engine result pages. Various strategies like optimizing headlines, meta titles, and meta descriptions with keywords can help you optimize your content.
The next important digital marketing skill we'll see is content marketing.
Content Marketing
You might have already heard what the audience and marketers say about content. That content is the king. It is true, as it is a modern-day requirement to make the audience aware of a particular business, brand, product, or service. So, the meaning of content marketing is pretty simple. It involves advertising and promoting the content in written and/or visual form to create brand awareness in the market. A digital marketer needs to have sound knowledge of content marketing to better guide the teams in the right direction. Digital marketers are decision-makers and are required to select content channels for the promotion of the content.
Another important skill for digital marketers is video marketing.
Video Marketing
As compared to other forms of content, the most preferred and loved among the audience is video content. This form of content is engaging and understandable for the audience. There are various formats of video marketing, like tutorial videos, brand videos, demo videos, guideline videos, personalized videos, etc. The role of a digital marketer in this domain is to make sure the video has improved SEO so that the content reaches the right audience. This will ensure the video boosts the sale and leads to more conversions for the brands. Lastly, digital marketers make sure that the video increases brand trust among the audience.
Another important digital marketing manager skill is data analytics.
Data Analytics
You might wonder how data analytics is the responsibility of digital marketing. Well, digital marketers can use data analytics to collect data from various sources like websites, web searches, social media, etc. Through data analytics, digital marketers can make decisions easily and can also use various tools to manage this data. Here, digital marketers are required to first get free of irrelevant data from huge datasets and then work on data. Next on the list of digital marketing manager skills is product/ UX design.
Product/ UX Design
Knowledge of user experience and the complete user journey is helpful for a digital marketing manager because you need to comprehend your customers to optimize their experience on your web pages. The user experience (UX) design of a good or website, UX authoring, and conducting A/B testing to evaluate performance and enhance the UX are a few of the examples of what this could entail.
Unlock Your Career As A Digital Marketer Digital Marketing Pro Program Enquire Now
Social Media Marketing
Social media marketing, without a doubt, is a big component of the digital marketing domain. It involves promoting the content to various social media channels like Instagram, Youtube, LinkedIn, etc. This component requires a good amount of skill, as social media marketing is not only about posting content. It also involves creating quality content, relevant content, and also continuously engaging with the target audience. The work of a digital marketer here is to understand the algorithm. Each social media, like Instagram and Facebook, has a different set of algorithms. Digital marketers make sure that social media marketing uses the right set of tools and techniques.
The next important digital marketing skills are creative thinking & problem-solving.
Creative Thinking
The majority of people think about design when discussing creativity in digital marketing. However, creativity is not a feature of just design; it is a product of creative thought. With creativity, you may embrace change while others are hesitant to do so and address challenges in novel and original ways. It makes it possible for you to come out and compete in a setting where there is fierce competition. All of this will lead to the development of a consistent brand identity that raises audience engagement and sets your brand out from the competition.
Problem-Solving
Strong decision-making abilities can help you advance as a person and a professional, whether you're resolving issues for the whole team or just for yourself. The same is important for digital marketers. The skill of problem-solving is of utmost importance for digital marketers. Your ability to spot a problem, pinpoint its origin, come up with a workable solution, and put it into action successfully depends on your problem-solving abilities. This includes the capacity to assess if the objectives of your plan were met.
Communication Skills
Effective communication in digital marketing involves things like delivering messages and content that create impact, building relationships, and developing trust among the target audience. The aim is to develop a convincing message and convey it to clients in a style that is understandable, clear, entertaining, and relevant. A skilled digital marketer should be able to see things from different perspectives, explain ideas in a way that those watching will easily understand, and also have a good sense of what the audience would find interesting and valuable.
Revolutionize your career with our Digital marketing course with placement guarantee-Enroll Now
The last digital marketing skill that we'll see today is marketing automation.
Marketing Automation
Marketing automation is the process where marketers assign repetitive tasks to the tools. These tools can handle minor responsibilities of the website, like setting a form, managing some parts of campaigns, etc. It's a crucial tool for assisting your sales team in locating leads from online visitors that are sales-qualified. There are various automation tools available with different features that are both free and paid versions. However, the most important element in the whole process is to select the right tool that goes right with the business goals of the brand.
These were the important digital marketing manager skills. As we've discussed quite a few skills, you might be wondering why to learn the marketing skills mentioned above. And why select digital marketing as a career?
Why Select Digital Marketing As A Career
Seeing the high demand and hype of this career field, many professionals do question why to select digital marketing as a career. Let's see the possible answers to this question:
The field is always evolving. There is no fixed set of roles and responsibilities in this field. As the market grows and new trends come, digital marketers are required to work on them.
If you already don't know, despite great hype, the field has a high demand for skilled professionals. And this demand is high for all levels of work, for freshers to experienced professionals.
The field also provides a variety of flexibility in job nature. One can select to work full-time with the company or part-time or even on a freelancing basis.
A career in this field has no restrictions. A person with any background and from any field can start their career journey in the field, given they have adequate knowledge and interest in the field.
Conclusion
After seeing the above skills, if you're wondering how to learn marketing skills, worry not, as there are the best online courses available online that prepare you for the digital world. Apart from the above-mentioned skills, other important skills for digital marketers are CRM, personal branding, Email marketing, PPC, Google, Adwords, influencer marketing, and much more.