Without a doubt, we're sure, every other individual might have got advised to start their career in digital marketing in one or the other role. Digital marketing career is indeed in demand, but before starting their journey, one must be aware of digital marketing job opportunities, digital marketing career in India, pros and cons, and much more. While starting to think about a new career, stress, and unlimited questions go into your mind. All of these important questions will be solved in this blog post. This blog will be your complete guide to understanding what is digital marketing, the demand for digital marketers, and your career in this field. Let's start with the basic question of what exactly is digital marketing.
What is Digital Marketing?
As you know, marketing is all about focusing on product/service/brand awareness among the audience. Similarly, digital marketing focuses on promoting brand awareness among the audience through digital means. The role of digital marketing is growing due to changing habits of consumers. For example, when was the last time you saw an ad on TV and decided to purchase the product? Long time back, right? But, the chances of you seeing an ad on a social media platform and purchasing in the past few days are quite higher. This shift is due to changes in the consuming habits of the audience. People now like to spend their time on social media and other digital means. Due to these particular reasons, there are multiple digital marketing opportunities provided by the organizations. Well, the career comes with various roles ad one can select the role they want to choose based on their skill set and their interests. Let's see what is the demand for digital marketers along with the various roles available in the field.
What Is The Demand For Digital Marketers?
As the digital marketing field is so wide, the digital marketing job role is constantly evolving. Let's explore different roles of digital marketing:
Social Media Manager: As you might have already guessed, SMM is responsible for all the social media platforms of the organization. They are responsible to evaluate the performance and insights of social media platforms. The average starting salary for this role is around 3 Lakh Rs.
Learn Digital Marketing From The Best Online Courses Platform Enquire Now
SEO Specialist: SEO stands for search engine optimization. The role of an SEO specialist is to increase the rank of the website and content on the search engine result page, that'll increase the traffic of the website. The average starting salary of an SEO specialist is 3.5 Lakh Rs.
Content Manager: Content managers are required to understand the audience on all the digital platforms and come p with interactive and new content. The job role is highly creative. The average salary for this role is 4.9 Lakh Rs. These were a couple of roles in digital marketing. Some of the other roles are PPC specialist, Digital marketing executive, Digital marketing manager, Email marketer, digital marketing analyst, etc.
Now that you know why digital marketing job roles are the future and what is the demand for digital marketers is, let's see the advantages of a career in digital marketing.
Advantages Of A Career In Digital Marketing
Working in the field of digital marketing requires creativity and passion to outgrow the goals. And, it seems like you're quite interested in the field of digital marketing. To make you more confident of this career decision, below-mentioned are some of the advantages of a career in the digital marketing field:
Diverse Roles
Unlike other career fields, you can select the type of role and the type of work that suits you. If you like the social media world, go to social media marketing. You're creative, select designing or writing work. If you like analysis, select the role of digital marketing analysis. There is a bundle of opportunities in the field with various responsibilities.
High Demand
If you're still wondering, is there a high demand for digital marketing jobs, let us answer it for you once, yes it is. The world, as you know is already been shifted to digital media and now depends on it. You'll never find someone without a mobile phone. Businesses will always require skilled professionals in the field. And, let us tell you, high demand leads to high salary benefits for the job position.
Job Flexibility
The field of digital marketing is highly flexible. You can find a job where you can work in an office with like-minded professionals. Or, you can select a job that allows you to work from the comfort of your home. Apart from this, you can start working as a freelancer for multiple clients and gain exposure from different people.
Secure Career Option
As you already know, online marketing is booming and is here to stay. The future resides in the digital world. Therefore, the field and career of digital marketing is a secure option for individuals who are thinking to begin working here. With time and improvement in technology, one might need to upskill with time, but a career is surely a secure option.
No Rigid Qualification
There's no rigid barrier or qualification compulsory for the digital marketing field. One just needs the right skills that can be learned from the online courses. Apart from this, anyone with a bachelor's degree in many fields can start their digital marketing career. Starting with the entry-level job, one can get full exposure and knowledge and the latter can work at higher levels of the field. There are so many more benefits to selecting this in-demand skill and career field. But, with the benefits come the right amount of challenges. Let's see some of the disadvantages of a career in digital marketing.
Disadvantages Of A Career In Digital Marketing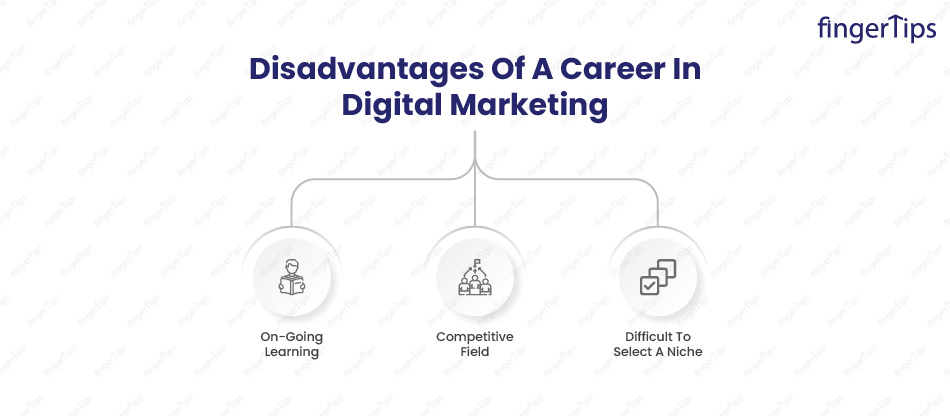 Along with the advantages that we saw before, there are certain challenges in the field of digital marketing. Let's see what those challenges are:
On-Going Learning
The field of digital marketing is ever-evolving. There will be new updates, and trends, on social media, or in the world of digital marketing. One cannot just learn a skill and continue working as a digital marketer. A professional need to stay updated with new trends and also needs to upskill from time to time to learn new skills.
Competitive Field
With more people getting aware of the advantages of the field of digital marketing, more individuals are trying to enter this field. Due to this, the field is getting highly competitive despite the huge demand for digital marketers. But, one with the right amount of skills and knowledge can easily begin their career without any fear of competition.
Difficult To Select A Niche
As we've mentioned earlier, there are multiple niches available in the field of digital marketing like social media, content writing, graphic designing, analysis, management, email marketing, and so on. It is important that one picks and selects the right niche they're interested in. However, if you're learning a digital marketing course from the best platform that covers all these topics in detail, you might not face the confusion or problem of selecting the niche all by yourself.
These were the three disadvantages or the three challenges one might face while starting a career as a digital marketer. Now, after seeing a career in marketing, let's proceed toward the final part of this blog.
Revolutionize your career with our Digital marketing course with placement guarantee.Enroll Now

Conclusion
The field of digital marketing is growing and evolving. As a beginner, one might get confused with an abundance of advice in the field. To get a digital marketing job, one can follow the following steps:
Research about the field
Get enrolled in the best course
Earn a certificate & become an expert
Get entry-level jobs and grow in the field
A job in digital marketing may be the perfect fit for you if you're a marketing professional who appreciates an environment that is fast-paced and creative. You must be well-prepared and possess the necessary skill set to pursue a career in such a cutthroat industry. In the blog, we've tried to give you every possible information like the demand for digital marketing professionals, the pros and cons of the field, and much more. We hope the information came useful to you. Happy Learning.