Business analysts assist organizations in enhancing their systems and procedures. To find solutions to business challenges, they perform research and analysis. They also assist in introducing these procedures to businesses and their customers. As you might already know the profile of a business analyst, we assume you're confused regarding the skills required for this position. Well, this guide will cover the top 10 business analyst skills, along with the guidelines on how you can develop these skills.
Let's start with exploring the skills required for a business analyst job profile.
Top 10 Business Analyst Skills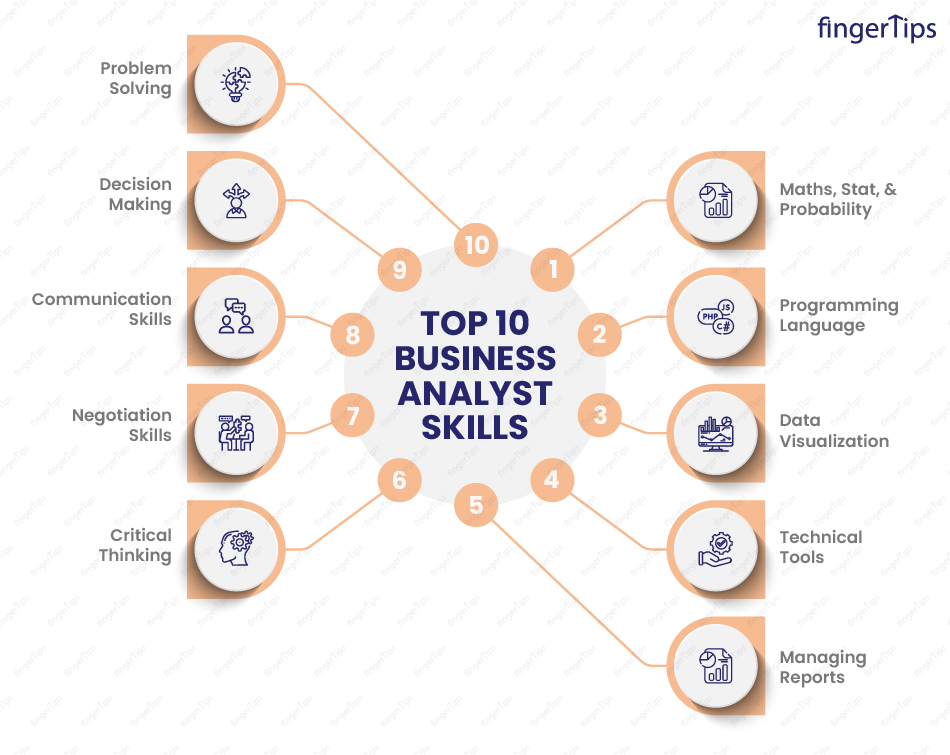 As with every other field, the field of business analysis is a high-functioning profile. Therefore, like every other field, there are a bunch of skills required for a business analyst. In the blog, we'll see technical as well as some of the non-technical skills needed for business analyst. Let's start with the technical skills.
1.Maths, Stat, & Probability
The job profile of a business analyst is technical and as you might already know, the base of every technical domain starts with a basic understanding of mathematical, and statistical concepts. These concepts help to work with data, find patterns and make predictions.
Data collection is indeed the first and most important step for every analyst. But the collection of data will make no sense if analysis is not possible. Therefore, a business analyst must be able to comprehend the data and apply probability and statistics to create precise predictions.
Let's see other technical business analyst skills required.
2. Programming Language
Irrespective of the years of experience, whether the individual is a professional or a fresher, it is important to have a basic understanding of basic knowledge of programming languages. This skill helps the analysts to perform better and faster analysis of data resulting in timely decision outcomes for the company.
Among various programming languages, two of the most important ones are Python & R. These languages have a bunch of libraries that make the work of analysts much easier. Not only important but these two languages can also be easily learned by the freshers on their own.
3. Data Visualization
The next on the list of skills of a business analyst is data visualization. As programming languages, this skill is also very much needed by professionals in technical job roles. As an analyst, a professional is required to derive insights from the data. These insights are in technical terms and numbers which are not understandable for the stakeholders. Data visualization is the process of converting boring textual data into an interactive graphical format. Therefore, to make the decision-makers understand the findings of the data, analysts must know the skill of data visualization.
4. Technical Tools
All the skills that we saw like data visualization, applying concepts of math, stats, or even working on programming languages, these all tasks require a bunch of tools. Some of the business analyst tools and skills are very basic while some other requires extra attention to get familiar with. The basic tools are spreadsheets, charts, graphs & diagrams, etc. While the other tools are familiarity with cloud and real-time databases, knowledge of SQL and MYSQL, etc. And, also certain software development like DevOps, Agile, etc.
5. Managing Reports
The next business analysis skill in the line is the management of reports. Tasks like creating, updating, deleting, removing, and overall management of reports come under this. There are different platforms where these reports and dashboards are created. Tableau and PowerBI are some of these platforms. These reports have all the data related to the problem and the important solution that'll help the stakeholders in the decision-making process. Therefore, the skill of managing and organizing thousands of reports in one place is very important for the field.
Moving further in the blog, we'll see key skills for business analyst that are non-technical in nature. Basically, these are the skills that are demanded by the recruiter irrespective of the job profile.
6. Problem-Solving
The problems that this profile faces are rather technical. With these individuals working on the data, they're expected to deal with any kind of problem that arises in any department. Therefore, the skill of problem-solving must be the core nature of every business analyst. Also, the way or the procedure of how they solve the problem is very different. It starts with identifying the problem along with its cause, and then examining it and coming up with multiple solutions for a problem. The best possible is selected and applied in the business. The work of a business analyst doesn't end here. They're also required to evaluate the situation on a timely basis.
7. Decision Making
The next skill is decision-making. Like, after seeing problem-solving skills, it is quite obvious that business analysts must have decision-making skills and power. The decisions that stakeholders make based on a business analyst's conclusions can outperform rivals and take your company to new heights. Because of this, business analysts should consider their options carefully before making a choice. Business analysts can make the best decisions when they have the mentality to consider several angles and forecast potential outcomes. Knowledge of various concepts like SWOT can help professionals make better decisions.
8. Communication Skills
Not only for business analysts, but this skill is also important for every other job profile. Also, as mentioned earlier, business analysts are required to work with various departments and solve their problems. And, not all the departments are technically aware of the concepts. Business analysts are required to communicate non-technical to make other professionals aware of the situation. Also, during the interview for the business analyst role, recruiters frequently watch candidates in action and make recommendations to supervisors based on the business analyst's communication abilities.
9. Negotiation Skills
Business analysts are required to communicate with all types of people. They can be a client, shareholder, person from management, a developer, or anyone else. Not only this, business analysts are required to deal with all these profiles and convince them of a single common solution. This solution is again decided by the business analyst, but to implement that particular solution in the business, a business analyst must know how to convince as well as how to negotiate with all these profiles.
Now, let's see the last skill in the business analyst requirements.
10. Critical Thinking
Along with being the problem solver and decision maker comes the responsibility of critical thinking. When you use critical thinking, you examine, interpret, evaluate, and form opinions regarding what you hear, read, speak, and create. Using critical thinking doesn't require you to be negative or concentrate on flaws. It means having the mental clarity necessary to analyze and dissect a situation. So in the profile of a business analyst, they're required to critically think about the tools they use, the programming languages they use, how they present the data, etc. As all these factors will define the accuracy of the final decision. These were a few of the business analysis skills that are mandatory for any individual. But knowing about all these skills is not enough. One must also know how to develop or even improve this skill. If you also want to know this, continue reading the guide.
Developing Business Analyst Skills
Below mentioned are some of the ways, you can learn business analysis skills.
Practice Communicating
What you can do is write down a technical piece of content for a non-tech person. Ask someone from your family or from your friends to make sense of that data. Take feedback from this exercise and improve the skill.
Practice Tools & Software
There are various tools and software that you should know of. Try learning them on your own. There are various resources available online that can help you learn them.
Research & Learn From Courses
To gain proper practical insights, try researching about best online courses platform and start your professional journey with these. These were some of the ways for you that'll help you in developing business analyst skills. Let's continue to conclude the guide.
Conclusion
We hope the guide came helpful to you. We tried our level best to include the top 10 skills and easily explain the technical skills. If you're thinking to become a business analyst, let us tell you that you're on the right path. The field of business analytics is expanding right now. Professional business analysts are increasingly in demand all around the world. You can learn the skills from the best online course and kickstart your career in the field.