The term digital marketing needs no introduction. From the ads you see on social media apps, to YouTube videos you see about products and to promotional or discount emails that you get on your email ID, all come under digital marketing. There are multiple digital marketing concepts involved in the whole term like digital marketing strategy, types of digital marketing, multiple digital marketing techniques, and much more.
Well, if you're interested to know about popular digital marketing categories, you're at the right place. In the comprehensive guide, we'll be seeing advanced digital marketing types used by the majority of brands. Before that, let's quickly see what is digital marketing and then proceed further.
What is Digital Marketing?
In a dynamic online marketing strategy known as digital marketing (DM), companies use digital platforms to advertise their goods, services, or brands. To reach and interact with their target audience, it includes a variety of methods, including search engine optimization (SEO), social media marketing, email campaigns, content marketing, and paid advertising. DM is a crucial instrument for contemporary marketing and brand expansion since it enables companies to connect with a global client base, assess the success of their efforts through analytics, and modify their marketing strategy in real time.
Nike, a well-known example, is a leader in the worldwide athletic footwear and apparel market. Nike uses digital marketing to reach out to a sizable portion of their audience. This is how:
Nike is quite active on social media sites like Instagram, Facebook, and Twitter, where they post motivational content, athlete endorsements, and new product announcements. Through interactive campaigns and user-generated content, they interact with millions of followers.
Customers may shop online with ease thanks to Nike's e-commerce website and mobile application. These platforms provide seamless purchasing experiences, unique releases, and personalized suggestions.
These are just a few examples, Nike or any other brand uses multiple elements of digital marketing. Out of which, we'll be seeing the popular types of digital marketing now.  
Ten Types of Digital Marketing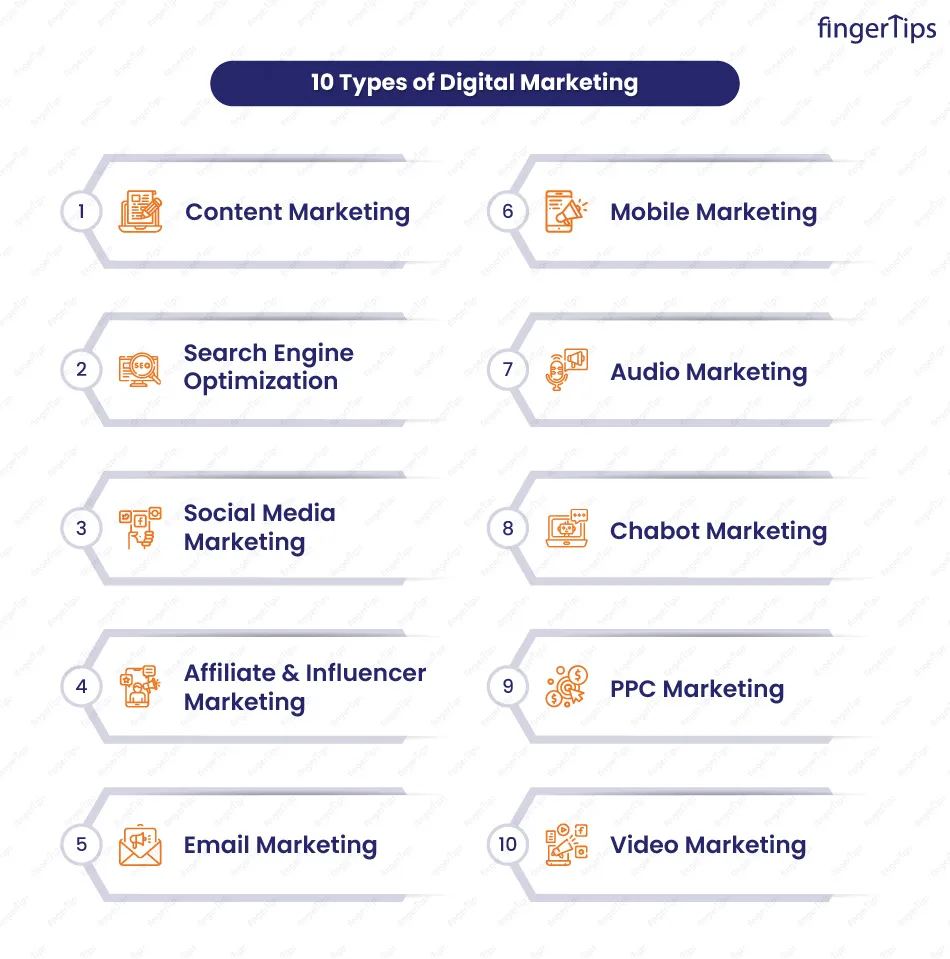 As we mentioned earlier, digital marketing is a wide domain and has multiple elements. Mostly there are top ten elements of digital marketing that almost every brand or business adopts to get maximum benefit. These top types of digital marketing are explained below in detail.
1. Content Marketing
Content marketing is all about creating as well as uploading valuable and insightful content on multiple platforms to reach the target audience and make them feel connected with the brand. The form of content varies from platform to platform. There can be written content like blogs, posts on social media platforms, short and long-formatted videos for YouTube, then audio content like podcasts and radio, etc.
Creating quality content directly or indirectly helps in boosting the sales of the company. Other than this, other elements of digital marketing like PPC, email marketing, and others are largely dependent on content to make an impact on the audience's mind.
2. Search Engine Optimization
SEO short for search engine optimization is the process of improving the website's rank on the search engine result page to boost the page and attract high traffic. There are multiple types of SEO, the essential and most used ones are on-page SEO and Off-Page SEO.
Marketers need to keep in mind that SEO is a long-term and continuous process. The world of SEO keeps getting updated and introduced by multiple algorithms that a marketer needs to keep tabs on.
3. Social Media Marketing
Social media marketing is using social media platforms to promote a product, service, or brand to the audience. Multiple platforms in the market that brands use are Instagram, Facebook, YouTube, LinkedIn, Pinterest, etc.
Learn Digital Marketing & Pay After Getting Hired-Enroll In The Program Now
Along with promoting the content, social media marketers are required to be trained to measure the performance of posts that have been uploaded. By this, they can understand what type of, the format of, content is preferred by the audience.
4. Affiliate& Influencer Marketing
Affiliate marketing is when a business collaborates and partners with another brand/blogger to promote the products and services. These bloggers are called affiliate marketers and they receive a commission every time a sale is made through them.
Influencer marketing is one of the trending and growing types of digital marketing in this era. Businesses take advantage of celebrities or influencers' huge following with the same target audience. The said influencer acts as a brand promoter and pushes the audience to try the brand's product and service.
5. Email Marketing
Email marketing is used by brands specifically for a particular target audience which is for the list of subscribers. Marketers generate and send emails to offer value to consumers, and to gain the audience's trust. The emails are used to announce sales, offers, upcoming events, etc.
It is an economical strategy for attracting new clients, keeping existing ones, and increasing brand recognition. Strategic timing, personalized communication, and captivating content are all essential components of effective email marketing. To gauge the success of a campaign, marketers frequently utilize tools to track data like open rates and click-through rates. Maintaining trust and guaranteeing legal conformity in email marketing practices requires compliance with privacy laws, such as GDPR.
6. Mobile Marketing
According to a Google survey, the majority of users prefer browsing for products/services on mobile phones instead of laptops or PCs. Since mobiles are now part of our lives and are such convenient devices, they have become the habit of users. For brands to reach this audience at the right time, their content style and format must be mobile-friendly.
Apart from this, brands that have younger audiences as their target should primarily focus on mobile phone marketing. Social media advertising in small formats, email templates being mobile friendly, etc can be taken care of by brands for the audience.
7. Audio Marketing
Utilizing sound-based content, audio marketing connects and engages audiences. Podcasts and voice-activated advertisements are all parts of this dynamic strategy. In particular, podcasts provide a potent platform for delivering stories and spreading marketing messaging. With the popularity of smart speakers and voice assistants, businesses are developing speech-activated marketing strategies to engage customers in more natural interaction.
Sonic branding is the process of developing recognizable sounds or songs connected to a brand to increase brand identification. To reach and connect with their target audience, businesses can use audio marketing, which takes advantage of the rising demand for audio content consumption.
Upskill In Your Career By Mastering Digital Marketing-Pay After Placement Program-Enroll Now
8. Chabot Marketing
An approach known as "chatbot marketing" makes use of chatbots, or computerized conversational agents, to interact with users. These smart programs utilize natural language processing to comprehend customer inquiries and give answers in real time on websites, social media platforms, or messaging apps. Chatbots have a variety of uses in marketing, including assisting customers with product selection, responding to frequently asked questions, and even completing transactions.
By providing personalized experiences, gathering useful data, and encouraging a sense of participation, they improve customer engagement. Automating repetitive chores, increasing customer service effectiveness, and maintaining a consistent brand voice are all made possible by chatbot marketing. As technology develops, chatbots become more complex, incorporating AI and machine learning to give more individualized and context-aware interactions.
9. PPC Marketing
PPC marketing is a payment-based marketing option where marketers pay fees every time the ad gets clicked by users. This way, the ads take the user to a landing page or a website. PPC ads are often seen on multiple platforms like Google search engines, social media platforms, etc.
PPC marketing works on keywords. The stronger your keyword research, the more clicks you're expected to earn from users. Now, when your target audience searches for that particular keyword, your ad will attract them as leads. Marketers can freely set the budgets for the ads to avoid spending more than the fixed amount allotted. Now, not to forget, that successful PPC campaigns require optimization at regular intervals, strong keyword research, and a proper understanding of the target audience.
10. Video Marketing
A digital marketing tactic known as "video marketing" uses video material to advertise goods, services, or brands. Due to how well it informs and engages people, it has grown in popularity. Organizations produce and share video-formatted content on a variety of channels, including social media, websites, YouTube, and email marketing campaigns.
There are many different types of video marketing, including as product demonstrations, client testimonials, how-to manuals, webinars, vlogs, and more. It enables businesses to visually and emotionally communicate their messages, which makes it simpler to establish a personal connection with customers.
Video marketing is a crucial part of a comprehensive marketing plan in the modern digital environment since it is an effective tool for attracting and converting clients.
Now that we've discussed the best and top ten types of digital marketing, you might wonder what type is better for your business or organization as a marketer or owner. Don't worry, as further in the blog, we'll be seeing that.
What Types of Digital Marketing are Best for Your Business?

The type of digital marketing that you select to implement in your marketing strategy for your business, depends upon the long-term objectives and target audience. Let's see how it works:
SEO: SEO is suited to all business types whether small or big. It improves the website's visibility. But, businesses that can afford to input long-term time resources should start SEO.
PPC: Now, if your business wants to see quick results, PPC is your friend. It can generate traffic immediately and increase the lead inflow of the website.
Video Marketing: Video marketing is used to convey special messages or connect emotionally with the audience. It can popularly be used in campaigns to create impact.
Affiliate Marketing: Mostly adopted by e-commerce stores. Helps businesses to promote the product in exchange for a fixed commission on sales.
Social Media Marketing: A very versatile option, highly preferred by small businesses. Nowadays, platforms like Facebook and Instagram are helping businesses to generate leads and boost sales.
There are several other elements of digital marketing in the market. Along with these types, digital marketers are required to know about multiple phrases and metrics of digital marketing. After getting so much information on digital marketing, and its elements, if you're interested in building a career in the field, we've got your back.
Want to Get a Jumpstart on your Digital Marketing Career?
As you can guess from this guide, digital marketing is a wide field. To begin your career, you not only need to gain this knowledge but are also required to get hands-on experience.
To succeed in this dynamic subject, learn the most recent approaches, resources, and methods from professionals in the field. What could be the plus point? With our "Pay After Placement" program, you may invest in your career without worrying about money. Gain real-world experience, and you can pay for your education after getting a job in digital marketing. Take advantage of this chance to start your path to a lucrative career in digital marketing. Enroll right away to realize your potential! 
Conclusion
In conclusion, there are many opportunities for brands and companies to explore in the always-changing world of digital marketing. From SEO to influencer marketing, we've guided you through the top 10 categories of digital marketing to show you the wide range of options you have.
Keep in mind that the most effective digital marketing efforts frequently combine these strategies as you negotiate this complex environment. Adjust your strategy to your unique objectives, target market, and sector, and be ready to change with emerging trends and technological advancements.